Female Lawmaker To Men: If You Want Viagra, Get A Note From Your Wife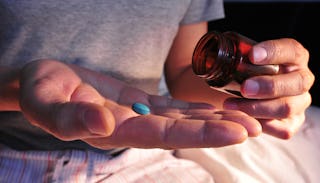 A Kentucky legislator wants men to get permission from their wives before taking Viagra.
A Kentucky legislator has had enough of her colleagues' attempts to legislate women's bodies, so she's striking back in a way that kind of makes us want to be her best friend: by filing a bill that would force men to get permission from their wives if they want a Viagra prescription.
Democratic Representative Mary Lou Marzian of Louisville filed HB 369 late last week, which specifies that only married men can obtain drugs that treat erectile dysfunction, and in order to do so, they must visit their doctors twice and bring a signed note of permission from their wives. Even funnier, the bill states that each man must also "make a sworn statement with his hand on a Bible that he will only use a prescription for a drug for erectile dysfunction when having sexual relations with his current spouse."
When asked about the bill, Marzian — who is a registered nurse — told the Courier Journal simply, "This is about family values." You know, the go-to response of every male legislator who's ever tried to keep women from accessing birth control or safe, legal abortions. Like I said, this woman must join us for drinks immediately.
Marzian acknowledged that her bill is tongue-in-cheek, but said it's "meant to protest intervention by a predominantly male General Assembly into women's health." Kentucky has recently passed a number of bills affecting women's healthcare, including a measure that requires all women to get counseling prior to obtaining an abortion. Says Marzian, "Do we really want a bunch of legislators interfering in private, personal, medical decisions?"
The answer, of course, is no. But for some reason, lawmakers seem to feel totally comfortable legislating women's sexual health and reproductive choices, and making sweeping generalizations about what we should want and how we should behave. If anything, I'd say Marzian's bill doesn't go far enough.
If these dudes truly want boners on demand, maybe they should have to sit through a lecture about how sex is only for procreation and be told they shouldn't unzip their pants unless they want a baby. Then, they can watch a series of informational videos about the possible consequences of their decision to take Viagra, and submit to a forced three to five day waiting period to reflect on their choices. After that, they can find the funds, lodging, and transportation to drive seven hours away to the only pharmacy in the state that carries magic penis pills.
Hey, if it's okay to find outlandish ways to control women's bodies, there's no reason we can't do the same for men. Marzian's bill is a joke that will never pass, but that's only because we still consider it a "joke" to even think of legislating mens' bodies. Meanwhile, women are forced to jump through absurd hoops to exercise their reproductive rights and very few people bat an eye. In truth, Marzian's bill is no more ridiculous than the rules and regulations that get lobbed at women every day, and kudos to her for introducing an aggressive piece of legislation that drives home that point.
This article was originally published on