Le Creuset Has A Line Of Disney Cookware, And It's Perfection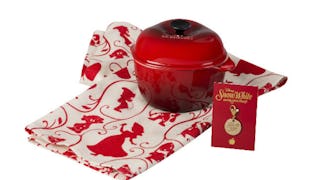 Image via Le Creuset
This line by Disney and Le Creuset will have everyone excited
It doesn't matter if you cook or not – prepare to adjust your Christmas list. Disney and Le Creuset have joined up to create some Snow White-inspired cookware for dream kitchens everywhere. The amazing line was created to celebrate the 80th anniversary of Snow White and the Seven Dwarfs but even if you aren't a lover of the film, its unlikely anyone could resist these gems.
The apple-shaped cocottes (otherwise known as a Dutch oven) are a holiday match made in heaven. It's not the first time the cookware line have created unique pieces and collections that have us swooning. They released their sugar pink collectibles last year which made it impossible to resist getting our hands on all of the things. Because if we have to say "dutch oven" in front of our kids without laughing, they better come in pleasing colors.
There are currently two options for Snow White fans everywhere– a cast-iron apple cocotte (that is obviously sold with a gold Snow White charm and movie inspired tea towel for $230) and a smaller cocotte that comes with the same charm and tea towel for $55. Just think of all the (poison-free) apple-inspired dishes a person could cook up in one of these puppies.
If you aren't familiar with Le Creuset, they are a heavy-duty line of enameled cast iron cookware, stoneware, and bakeware that come enameled in a variety of fun colors. They have the ability to transform kitchens into a magical lands and have us going from Grumpy to Happy when cooking meals our kids will still refuse to eat.
Le Creuset have also created Beauty and the Beast-inspired pieces to round out anyone's Disney obsession. A person may need to take out a small loan but it will be worth it.
https://www.instagram.com/p/BZSKR6qFuj-/?tagged=disneylecreuset
https://www.instagram.com/p/BZkGVT8BuJp/?tagged=disneylecreuset
Both apple-inspired cocottes are available now for purchase at Saks Fifth Avenue and on Le Creuset's site, just in time for the holidays. It is the perfect gift for any Disney lover and if you happen to be in NYC, even better news for you. Saks will be featuring the cocottes in their Snow White themed famous window fronts for the entire holiday season.
So run, don't walk, to a store near you (or online, which is where I now complete 100 percent of my holiday shopping because…people) to pick up this Disney-themed cookware. Your inner child will thank you.
This article was originally published on