Le Creuset Is Having A Sale On The Prettiest Lavender Cookware
by Thea Glassman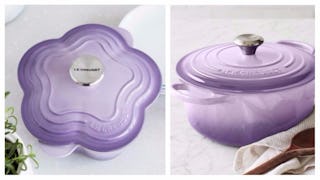 IMAGE VIA LE CREUSET/SUR LA TABLE
Le Creuset + sale = drop everything you're doing right now
Le Creuset, aka the prettiest cookware company out there, is having a sale on all things lavender and you're going to want to run, not walk, to get your hands on some extremely dreamy dishes. Seriously, most of the price tags won't make you want to hide under the covers and sob about what could have been.
First up, we have this 2 1/4-quart flower cocotte that rings in at $200. I know, I know, that one sounds a little steep – but it's made from enameled cast iron, dishwasher safe, and has a glazed interior that's stain-resistant. Also, it's very, very cute. Like, makes you want to go live your best life in the south of France cute. Plus these dishes last forever, so think of them as an investment.
And while you're in the south of France, you're probably going to want to drink lots of fancy teas but have zero places to daintily drop all those tea bags. Enter: a stoneware dish that's $9, shaped like an actual teapot and will solve all of your awkward tea bag disposal moments.
And, I mean, if you're going to get a rest for your teabags then you should probably also get a rest for your spoon. This $28 enameled stoneware spoon rest will probably (definitely) make you feel like the Queen of England.
Okay, now let's talk more practical cookware items. There's a $220 saucepan with quite possibly the daintiest, sleekest lid you'll ever see. Lavender makes everything so, so much better.
Also, your leftovers will suddenly look so much more appealing with this oven dish. It rings in at $140, promises stain-resistant cooking, and is dishwasher safe. But really, it's all about the fact that you'll actually probably want to eat a two-day old pasta casserole if you're reheating it in this purple dream.
Lastly, we've got this stainless steel mini cocotte. It's so miniature, so cute, and has an $85 price tag. But don't let that smallness fool you. This one is also made from enameled cast iron and has lid locks to pack in moisture.
Now go live your best, most lavender-filled life possible. Your kitchen might just become a marginally more fun place to spend time in.
This article was originally published on