Le Creuset Just Released An Ombre Line And It's Their Prettiest Yet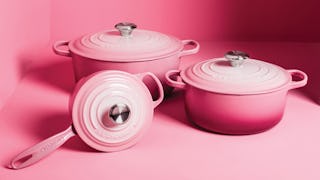 Image via Le Creuset
Le Creuset released a new line of ombre cookwear and it's completely dreamy
Ombre hair is hard to pull off (I've tried and failed multiple times). But ombre cookware? Well, that's a concoction sent straight from the kitchen gods. If you want proof, check out this dreamy new collection from Le Creuset. It will make you want to go bake something chocolate-y immediately.
First things first, Le Creuset is a French manufacturing company known for its cast-iron cookware. And everything they make is pretty. Really, really pretty. Their line of ombre kitchen items is no exception. "This limited edition collection dazzles with shades that cascade from light to dark," the site explains.
Important note: these items are only available until January 2019, so run don't walk for this one.
Are they even for real with this gorgeousness?
I know that cookware porn isn't a thing, but I feel ~things~ when I look at this cotton candy pink dutch oven. It can be used for both the stovetop and oven and comes in either 4 1/2 quarts or 7 1/4 quarts. The 7 1/4 quart rings in at $380 (*sigh* I know).
Also, the lid locks so all the moisture and tasty flavor can stay nice and sealed. There are also wide handles, which means you can comfortably grip the cookware and not accidentally drop it (been down that road too many times).
You can also that same gloriously punchy color in a saucepan, which sells for a (somewhat) less frightening amount of $185. The exterior enamel will prevent any and all chipping, so feel free to make your stickiest, crumbliest signature dishes.
If pink isn't really your thing, you can also snag both the dutch oven and the saucepan in a deep ocean blue color.
I would like to somehow live in these shades of blue, please.
Or, if you're into more understated colors, both the dutch oven and the saucepan are available in grey as well. I never really thought that I could feel enamored by a piece of grey cookware, but that day has come.
Look how sleek. Look how chic. There's also a sand-colored interior that "promotes caramelization, prevents sticking, and resists stains." Yes please.
Hopefully, your kitchen gets the ombre treatment ASAP. Just don't bring this hot trend to your hair unless you have a really, really good stylist.
This article was originally published on