Le Creuset Just Released Its Most Affordable Collection Ever And We Want It All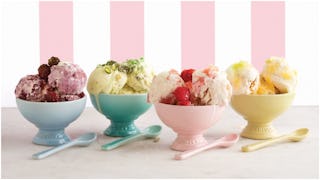 Image via Le Creuset
Le Creuset's new pastel collection is actually affordable
If you haven't yet discovered the pure beauty that is Le Creuset, please pull up a chair immediately. The cookware is crazy durable, looks like a Parisian summertime dream, and might actually make you want to head to the kitchen and cook something (or at least reheat something). It's also known for being a wee bit too expensive for most people — until now. The cookware line just released a brand new collection that is summery, pastel, and affordable. I believe the word "hallelujah" is in order.
Here's the deal. Le Creuset's new Sorbet collection offers up a myriad of cookware and dishes that are all under $100. This is a very big deal for all of us who have scrolled through the site before, and knew in our heart of hearts that we cannot and should not drop $300 on a very pretty, bright pink oven pan.
Good thing we held off on burning a hole straight through our credit cards. This affordable selection was definitely worth the wait, and also might have created a brand new niche for itself as the premiere destination for cookware porn. I mean, hello helloooo.
First up, we've got these mini cocottes ($80). They come in a set of four and pop with soft, pastel colors. Also, there's a nonstick glazed interior and it's made from very strong stoneware that prevents chipping and cracking. Pretty and practical. A second hallelujah is in order.
Then, we've got these teaspoons ($30). They're painted the same dreamy pastel colors, made from that same strong stoneware, and will make you feel very elegant as you stir your tea. Or, dig into a large pint of ice cream. Hopefully the latter.
Speaking of dessert — you can also pick up this set of four ice cream bowls ($60). They're a little more dainty than eating directly from the pint, but also to each their own.
Or, if you're looking for something a little bit more miniature, you can snag the tiny version of those bowls ($50).
And here's a dreamy set of mugs to add to your cabinet ($75). You really can never have too many mugs, especially when they're this gorgeous.
Now, go get your affordable shopping on. It's finally summer and you should probably be eating a frozen treat out of a cute bowl ASAP.