Le Creuset Just Released The Prettiest Line Yet
by Valerie Williams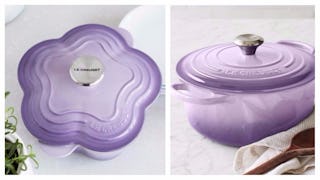 Image via Le Creuset/Sur la Table
Le Creuset's newest line is almost too beautiful to cook with
Le Creuset, purveyors of both Disney and "millennial" pink cookware, have a new line in a color so beautiful you have to see it to believe it. It's called "Provence," and it's basically ombre lavender deliciousness we need in our kitchens right now.
Welcome to being a grown-up person. Fancy cookware is bae.
Le Creuset makes durable and insanely pretty stuff we want displayed all over our kitchens. The new line boasts a dozen items in the dreamiest purple you ever did see, possibly inspired by Pantone's color of the year, Ultra Violet. We are fully on board with it, no matter its name.
Feast your eyes on this perfectly-sized baker.
Are they even kidding with this gorgeousness? I just forwarded my husband the link to this Flower Cocotte. How has he let me go all these years without one, what am I, some kind of prisoner?
Their classic 3.5 quart Round Dutch Oven is a must for any serious cook. Or unserious. Did we mention how fun it is to just stare at? It also comes in 5.5 quart size, by the way, and 8.5 quart, in case you want major leftovers of that signature white chicken chili your family won't stop asking you to make.
Or maybe oval is more your speed.
I'm drooling over this braiser that needs to find its way onto my (still not built except in my dreams) floating shelves. Even if I don't know what I would braise. Does it even matter? No. It does not.
All kitchens need at least a dozen of these 8oz Petite Cocottes, because what better way to serve individual portions of homemade mac and cheese (or boxed, I don't judge), apple cobbler, and more. I'm officially redesigning my entire kitchen to coordinate with my forthcoming Provence-colored Le Creuset collection. This is who I am now.
Just kidding, I'm too poor. But a girl can dream.
Lastly, this 9-inch baker that's just begging for us to make brownies for the PTA. Or ourselves. OK, just for ourselves.
The purple cookware of our dreams is available exclusively at Sur la Table, both online and in stores. Happy shopping (and cooking, I guess).