Le Creuset Just Released Its New Spring Line And Yes, It's Gorgeous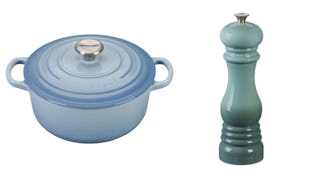 Image via LeCreuset.com
You're gonna want to give your kitchen the Le Creuset treatment this spring
Sure, it's only January — but who among us isn't ready for spring? It's like the people at Le Creuset read our minds because they've just released their new spring line. And the colors are to die for.
The spring colors are officially part of the "New Calm" line — and you'll surely see why.
First up, merengue. This shade has the most Le Creuset products to offer — everything from their staple dutch oven to casserole dishes to spoon rests, this ivory shade is a sure match for anyone's kitchen.
This color may not be as vivid as some of their other colors, but it goes perfectly with the soothing tones of their entire spring line. Their dutch ovens clock in at $380 (ugh, I know), and the casserole dish below is listed at $70.
The next springtime hue? Sea salt. Ah, just saying those two words gives off major beach vibes. Winter, shminter.
If there is a more soothing color than a sea-swept blue/green combo, I have yet to see it. Just pack this in my trunk and point me to the nearest beach house.
That's not just any pepper grinder — that's an ombre pepper grinder. Which may also be a nod to their official ombre line, released last year. Who knew kitchen cookware could be so dreamy? The salt and pepper mills are $38 each — a bit of an easier financial glide into the world of Le Creuset.
In case merengue or sea salt aren't your thing (blasphemy), there are two other colors in their new springtime line. Like this ultra sigh-worthy coastal blue.
It's airy, it's welcoming, it's the perfect shade of a spring or summer sky. It's the perfect cookware for getting through this drab winter.
I mean, who wouldn't want to fry eggs in a skillet the color of the sky? The skillet is priced at $170. This shade also offers the ombre salt shaker/pepper grinder combo, in case you're wondering.
The final shade in the springtime selection is fig. It's a great color to balance out the lighter, airier shades of spring found here. It's also just really, really pretty.
A lovely violet-y shade with hints of warm brown, the fig line is the perfect complement to the rest of the items here. The braiser below is listed at $300.
It's like the same color of a perfect glass of summer red wine, is it not? Mmm. This makes me want to cook up something delicious while sipping my favorite fruity cabernet, not gonna lie.
If you're looking to boost your sagging winter spirits with some delightfully pretty cookware, Le Creuset delivers. As always, it's a treat for the eyes and the kitchen.