Le Creuset Just Released A Line Of 'Sugar Pink' Cookware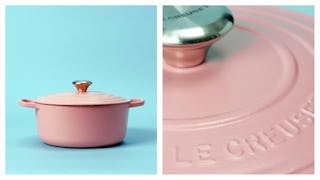 Image via Le Creuset
If loving these pink pots is wrong, I don't want to be right
If you're unfamiliar with Le Creuset, let me apologize in advance for ruining all other cookware for you, forever. Once you own one of these beauties — it's truly hard to be content with any other pots. This is adulthood, by the way. Isn't it exciting?
Yes, adulthood is obsessing over the quality of pots. Welcome to the party.
Le Creuset is known for its heavy duty cookware (literally.) These pots are so heavy you have to hit the gym to regularly cook with them, but you won't care once one is on your stove because it's just so pretty. And now they've gone and made a line of "Sugar Pink" cookware. Sites keep calling it "Millennial Pink," but that's stupid and annoying so they should stop.
I mean, come on. How lovely is that? No, YOU have no life. Shut up.
"Right now there are 23 pieces in the Sugar Pink Matte collection from Le Creuset, including a Dutch oven," The Kitchn reports. "There's also a French press, a pie dish, and a handful of different-sized canisters to choose from. There's even an adorable teaspoon if you want to treat yourself to something small."
We've had one of these braisers in my family (in a fantastic orange color) since the early 80s. It's still in perfect condition — I'm not even kidding. So yes, the price tag on this cookware is quite high(skillets and pots range from $165- $300), but they are built to last.
You're a lucky woman, Iris. He's a keeper.
Le Creuset even released an adorable video to commemorate the release of this adorable color.
GET. IN. MY. KITCHEN.
This article was originally published on