Le Creuset's Line Of Valentine's Day Cookware Is Better Than Chocolate
by Thea Glassman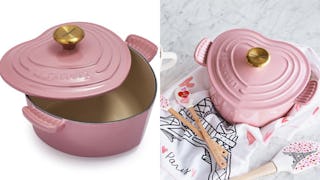 Image via Sur la Table
Le Creuset is forever #kitchengoals
Le Creuset, creators of literally the prettiest cookware you will ever see, released a rose heart casserole, and it's almost TOO beautiful to use. Almost.
The heart-shaped deep dish is sugar-y pink and topped off with an elegant gold knob. It is also handcrafted in France (natch), so this is a great excuse to go full Julia Child and bake all the complicated, irresistibly bougie stuff that you've been doggedly avoiding. La Creuset knows you can do it.
Alright, get ready to drool. This is literally kitchen porn at its finest.
The price tag is an admittedly hefty $199, but also Le Creuset is known for making super high quality, heavy-duty cookware (this one is 6.56 lbs). It's made from enameled cast iron, which means you can bang it up a little (slash, a lot) and it probably won't chip. Also, there's a glazed interior so you can continue to accidentally burn your food and not have to worry about chipping away at that gross char for days to come.
Side note: I will be the first to admit that I've never been one to care much about aesthetics in the kitchen (my dish towels are about 15 years old and are growing increasingly yellow by the minute) BUT this rosy magnificence might be enough to change my mind. I mean…hello gorgeous.
You can hold 2.25 qt. in this bad boy, by the way, so you can make just about any heavy duty dish you please. Preferably involving chocolate. I mean, you can't buy a dreamy casserole like this and not make some sort of delectable sweet treat — while casually daydreaming of patisseries in Paris.
If heart-shaped casseroles aren't exactly your thing, but you still want to jazz up your kitchen with something pretty and glamorous, there are so, so many other options.
Like this pumpkin-shaped cocotte (whatever, it'll be Halloween soon enough).
Or, this Belle-inspired soup pot.
You can never go wrong with pink. So, so much pink.
Now, go get your shopping on immediately. We'll figure out if falling in love with an inanimate object is appropriate later.