Leaked Script Suggests Mr. Big Is Still A Piece Of Sh*t In New 'SATC' Reboot
by Julie Scagell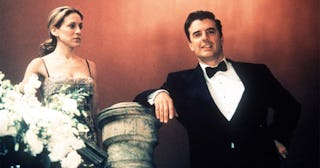 Paramount Pictures/Newsmakers/Getty
Mr. Big and Carrie may already be divorced in the new series
If you are a lover of all things Sex and the City, you already know the reboot And Just Like That is in production. While there are many things we can't wait to catch up on during the next chapter, the relationship between Carrie (Sarah Jessica Parker) and Big (Chris Both) is always a draw. Apparently, a leaked script shows that the pair are as drama-filled as ever, surprising no one.
Page Six reported the alleged details from the leaked pages and it looks like a large part of the story will center around Carrie and Big's post-marriage status. It's not that out of reach the pair would be divorced by now but it looks like the thrice-divorced Big may have actually had more wives than anyone previously knew about.
During the last movie, we saw Carrie navigating her lost love with Aidan Shaw (John Corbett), and it looks like he's returning for this reboot. The same goes for Bridget Moynahan, who previously played Big's second wife, Natasha. There are other new cast members (including Sara Ramirez from Grey's Anatomy) and after a lot of back and forth, no return from Kim Cattrall as Samantha. Luckily, Stanford is back and according to the pages, plays a key role in all brunch situations in Cattrall's absence.
"THRILLED to welcome @therealsararamirez, @NicoleAriParker, Karen Pittman​ and Sarita Choudhury to #AndJustLikeThat," Parker captioned a photoset of her new co-stars on Instagram. "Can't wait to work with these brilliant actors who bring so much talent, humour and excitement to our ensemble."
Parker recently shared an on-set snapshot of the three leading ladies giving fans a sneak peak into what they look like in today's version of the storyline. All three look stunning and minus Miranda's signature red hair, they all look extremely on point for their characters.
As for Carrie and Big, they finally tied the knot in the first SATC movie after he left her at the altar at the New York Public Library. The pair have had many big ups and downs, so a divorce seems like it may have been in the cards since their characters were written. Parker, who is now in her 50s and the host of a podcast appears to be fighting with Mr. Big over finances, again not a big surprise.
In one leaked scene, Carrie is discussing her divorce from Big with Stanford, Miranda, and Charlotte, saying, "I was taping the podcast, I was washing my hair. Yes, I wasn't eating or sleeping, but at least I felt good about my marriage. Now I'm just one of the wives he was taking care of?" Ouch.
"I'm thrilled to be working with Chris again on And Just Like That…" executive producer Michael Patrick King said in a release. "How could we ever do a new chapter of the 'Sex And The City' story without our Mr. Big?"
While a few leaked pages won't tell the entire story, we'll have to wait until the series premieres on HBO Max sometime later this year. Of course, that won't stop anyone from speculating.