Family Casually Nails 'Les Mis' Song And Becomes Viral Sensation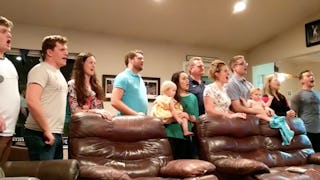 Image via Facebook/Jordan LeBaron
The LeBaron family's Sunday karaoke session went viral — because it's amazing
When your extended family gets together, how do you pass the time? Maybe a card game, a few beers, watching a movie, getting into an argument (maybe that's just my siblings). But if you're a member of the ridiculously talented LeBaron family, you casually belt out a gorgeous rendition of a song from Les Misérables like it's absolutely no big deal.
The LeBarons can all sing. Like, sing. Five of the kids and their spouses (along with mom Dennise LeBaron and husband Gerald) decided to do a little Les Mis karaoke on Easter. Dennise wanted to record the performance to keep for herself, but lucky for the rest of us, they made the video public where it's since gone very viral.
Singing "One Day More," here they are — prepare for full-body chills. They're that good.
Brother Jordon shared the video on Facebook with the caption, "Anyone looking to do Les Miserables for their next show? Better yet…anyone looking for an entire cast?" He lists the "cast" of his brothers and sisters along with their spouses — he plays Marius and his wife is Cosette (naturally). The rest of the group fill in the other roles along with Dennise and Gerald.
The highlight for me is Éponine singing like a complete angel while her baby tugs incessantly on her hair because, mom life. There's also an adorably diapered little one being held by her dad while the rest of the crew sings like it's literally their job. The entire thing is so perfect, it's hard to know what to rave about first.
A press release provided to Scary Mommy says the night started as a typical Sunday for the family — apparently performing Broadway-quality renditions of beloved show tunes is just a thing they do on the regular. Adopt me? Please?
But there's more to this stunning video than what we see — these performances have a much deeper meaning to the family. "The LeBarons began singing before the time of Instagram and YouTube sensations, when Dennise and Gerald had only two children. One day while Gerald was playing the piano, they noticed that their two-year-old Holli sang unusually well for a small child and enjoyed performing. Soon, Holli and Jordon began performing at church and community events and meetings," the press release reads.
As the family continued to grow, so did their singing group. "Not long after, Heidi and Jayson joined the group. The LeBaron Quartet continued the legacy of performing when Juston and Landon came along. Singing was almost a daily affair."
Sadly, Holli passed away suddenly in 2002 and in 2003, brother Landon was diagnosed with Autism. The family says their challenges helped them unite as they "grew stronger through their experiences."
Dennise says, "Singing is the glue that has held our family together during the tough times."
As the siblings married fellow musically-talented people, the group continued to grow, but as they began to have kids of their own, performing took a backseat. "However, they still love to sing when they get together, most of the time with Gerald at the piano and Dennise with the grandkids." Which is how we got the incredible video they shared this week.
Jordon tells Scary Mommy the family has been "overwhelmed" by the internet's reaction to their video. "We are getting inundated with comments from around the world from people who are inspired to do the same thing with their families. All of the attention is not something we are used to, but we are enjoying the love that is being shared as a result of our post."
We can only hope there will be more videos to come from this enviably talented group. And now, we have brand-new family #goals, even though it's doubtful any of us can top this crew.
This article was originally published on