Even LeBron James' Life Is Ruled By His Toddler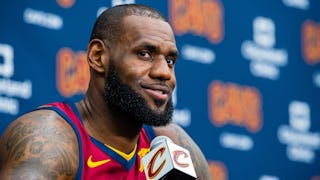 Image via Jason Miller/Getty Images
When LeBron's daughter needed a treat mid-game, he was on it
When you see a mega-rich and famous NBA star, you sort of assume their whole lives are perfect and exactly the way they want it. For many players, that's probably the case — unless they live with a toddler.
NBA superstar LeBron James and his wife, high school sweetheart Savannah Brinson, have three kids. LeBron Jr. is 13, Bryce is 10, and little Zhuri, the only girl, turned three this fall.
And it looks like sweet Zhuri rules the roost — or her dad, at least. A video of James going out of his way to make her happy when she asks for candy in the middle of playing a game has gone viral — because it's both hilarious and totally adorable.
Full disclosure, I have a massive crush on this guy and seeing him all melty for his three-old-old daughter has made me a tad swoon-y. Now that I've recovered, let's analyze this 19-second clip in all its amazingness.
The Cleveland Cavaliers star forward had his hands full with a game against the Chicago Bulls, which he and the Cavs eventually won, but not without a quick break mid-game to give his daughter what she asked for. At the start of the clip, you hear James happily shout "Hey mama!" with a broad smile on his face. He's spotted Zhuri in the crowd with a woman who's likely her mom. She's watching Daddy play and apparently, jonesing for something sweet.
And Daddy is on it.
A mic'd up James can be heard semi-frantically asking various associates sitting with the team if they have candy. The man is not messing around. Whether he's motivated by pure, fatherly love or knows Zhuri is about to take a one-way trip on the Toddler Shitshow Train in the middle of a crowded stadium unless she's given a yummy distraction, the dude is on a mission — and won't stop until he finds what his girl needs.
Finally, he locates candy from what looks like a security guard and makes sure his kiddo gets it. "You got candy on you?" he says. "Give that to my daughter."
I'm not the only one getting the vapors from James' adorable daddy gesture. Twitter was feeling his fatherly devotion.
Though some people felt for the guy who lost his candy to LeBron's very lucky daughter.
But mostly, they're just recognizing that a dad's gotta do what a dad's gotta do.
https://twitter.com/jetpack/status/944032579920986112
Kudos to James for juggling both the demands of a toddler and the Chicago Bulls when most of us would be frazzled by just the one.
And I'm not talking about the Bulls.