All The Reasons LeBron James' Public School Should Be A Model For The Entire Country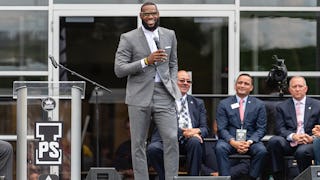 Image via Jason Miller/Getty Images
LeBron James' school offers countless vital benefits to students, families, and the Akron community
On Monday, LeBron James opened up the I Promise School, a school he founded through a partnership with the LeBron James Family Foundation and the Akron Public Schools system. It's a public school — not private, not a charter — designed for at-risk kids who are a year or more behind in their reading level.
And it should be a model for schools all over the country. Because imagine what our kids could do if other multi-millionaires invested their money in them the way James has.
For its inaugural school year, the I Promise School will teach 240 students: 120 third graders and 120 fourth graders. By 2022, the school plans to teach children in kindergarten through eighth grade. And when it comes to the generous, life-changing benefits for these students and their families, the list is practically endless.
Because the school is public, it's free to attend. But the school also provides free transportation to students who live more than two miles away, and free bicycles and helmets for all attendees — James has said riding a bike helped him get away from the more dangerous parts of his community when he was a kid. All students also receive a Chromebook to complete their homework, and free breakfast, lunch, and snacks to help get them through the school day. This is particularly important because there's countless research that proves hungry children don't perform well in academic environments — with school work, tests, and attendance.
The I Promise School doesn't just benefit the students who attend; the school will ensure their family's needs are met as well. When a family is struggling financially, the entire family feels it — kids included. I Promise offers parents job and family services, a GED program, and a food pantry where parents can shop and choose meals. There are even housing services available to families who need it. And since summertime can mean a lot of free time and not enough structure for young kids, I Promise also offers a seven-week summer camp program to keep kids educated, entertained, and safe.
If you're not weeping yet (spoiler alert, I am), just you wait — all students who graduate from I Promise will be afforded tuition-free acceptance to the University of Akron beginning in 2021. Amazing, isn't it?
Beyond the academics at I Promise, staff will use a "trauma-informed" approach when it comes to engaging students. This means students will feel safe and supported in their learning environment via daily breakfast with their teachers, a daily time for "social-emotional learning" to help develop their sense of community, and a "supportive circle" after lunch every day to help kids unwind and refocus on learning.
All of this embodies the "We Are Family" philosophy behind the I Promise School and what it offers students and their own families. All children and their parents or caregivers will receive academic, career, and psychological support — support which James and his mother Gloria received when he attended Akron schools. "We are family, we live it day to day," says Michele Campbell, the executive director of James' foundation, tells Cleveland.com.
Teachers also don't have to worry about paying out-of-pocket for their classroom supplies, because the school provides them.
Could you imagine what our country's educational system would look like if more public schools were like this? If students didn't have to rely on the generosity and goodwill of millionaires to execute an incredibly well-thought out academic system? In an ideal world, the I Promise School and its dedication to the well-being of its students and their families wouldn't be the exception; it would be the standard.
This article was originally published on