LeBron James Will Send 2,300 Kids To College
by Maria Guido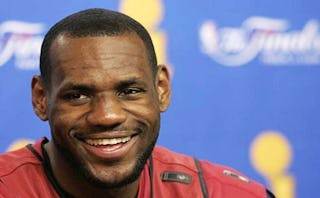 LeBron James is determined to "give back" to the community that raised him, and he's doing so in an amazing way. The NBA star is partnering with the University of Akron to provide 4-year scholarships to student who complete James' "I Promise" program.
The details are still being ironed out, but students will have to graduate from a high school within Akron's public school system, achieve certain standardized test scores, and fulfill a community service requirement. ESPN reports "the scholarship will cover tuition and the university's general service fee — currently $9,500 per year. According to the Akron Beacon Journal, as many as 2,300 children could potentially benefit from the scholarships.
From ESPN:
"It's the reason I do what I do," said James, who announced the program Thursday while hosting an event for students at Cedar Point Amusement Park. "These students have big dreams, and I'm happy to do everything I can to help them get there. They're going to have to earn it, but I'm excited to see what these kids can accomplish knowing that college is in their futures."
This is a great opportunity to give back in a real way. Education transforms lives, and should be available to everyone. Unfortunately, not everyone can afford it and there's a litany of reasons underprivileged kids don't make it through college. Slate reports, "At every level of academic ability, the low-income students were less likely to finish college than their wealthier peers. Yet more depressing: Exceptionally smart poor kids, whose math scores ranked them among the top quarter of the study's participants, were no more likely to attain a bachelor's degree than scholastically middling rich kids."
There are varying reasons this is the case, but financial factors always dominate. James is giving students a road to college that is paved and open, not blocked by financial demands that cannot be met. It's an extraordinary way for him to give back to his community.
"It means so much because, as a kid growing up in the inner city and a lot of African-American kids, you don't really think past high school," said James. "You don't really know your future. You hear high school all the time, and you graduate high school, and then you never think past that because either it's not possible or your family's not financially stable to even be able to support a kid going to college."
James will change the future of hundreds of students, while also benefiting a college that's suffered widespread financial cuts. It's just a win-win all around. The college will be renaming its education department the LeBron James Family Foundation College of Education. The first class eligible for the scholarships will graduate in 2021.
This article was originally published on