'Vaccine Hunters' Are Getting Shots Ahead Of Schedule By Stalking Vaccine Sites
by Madison Vanderberg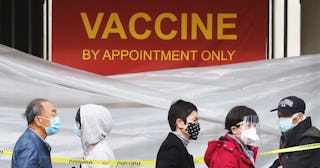 Mario Tama/Getty
"Vaccine Hunters" go "vaccine dumpster diving" for expiring vaccine doses
Since the start of the vaccine rollout, there have been many stories of COVID-19 vaccines expiring before they've been used up. Because the vaccine needs to be kept at cold temperatures, they are rendered useless if they thaw for too long, and while some of these stories of expiring doses are heartwarming (a group of healthcare workers gave out six expiring doses to unsuspecting drivers stuck in a snowstorm), others are frustrating (hospitals have thrown out excess vaccine doses at the end of the day).
Now that people have caught on to the "expiring vaccine" phenomenon, some are actively camping out at pharmacies and other vaccine sites hoping to catch one of a handful leftover vaccines at the end of the day, and one young millennial is going viral on TikTok for successfully getting the jab at a pharmacy in what she called "vaccine dumpster diving."
"We did it Joe! We went vaccine dumpster diving," 25-year-old Isabela Medina shared in a now-viral TikTok video. CNN reports that back in January, Medina and her friend joined a crew of others forming an ad hoc line at their local pharmacy, and at the end of the day, the pharmacy had run out of legitimate appointments and had eight leftover vaccines that were going to expire (Both Pfizer and Moderna's Covid-19 vaccines only last a few hours unrefrigerated). Medina was one of the lucky few who got the shot that day.
The response to this video is super mixed. On the one hand, those vaccines will go to waste and many are happy the vaccine went in someone's arm and not the trash, because as one healthcare worker who commented on the video on TikTok said, "my hospital doesn't let us use our extra doses. the amount of wasted doses due to no shows makes me cry."
One the other hand, "there's this sense of unfairness, although we can't necessarily explain why," Melissa Goldstein, an associate professor at George Washington University's Milken Institute School of Public Health, who studies bioethics, told CNN. It feels like the U.S.'s broken infrastructure for vaccine distribution is chaotic and prioritizes those who are computer savvy, so these "vaccine chasers" are often young and able-bodied twenty-somethings who have found a loophole in the system as long as they have the free time to stand around and wait all day. The feelings of unfairness comes down to the fact that the seniors who really need a vaccine aren't able to wait outside pharmacies all day.
Even Medina acknowledges this, telling CNN, "I'm really in a privileged position like, socioeconomically, in that I can wait all day for this vaccine. Those vaccination centers need to do better job and figure out a way to vaccinate the communities they're meant to be vaccinating."
At Kedren Community Health Center in Los Angeles, word got out about expiring vaccine supply and now it's common to routinely find a line of people camping out in an unofficial line, tailgate-style, hoping to get a vaccine at the end of the day.
On Facebook, groups for "Vaccine Hunters" have popped up where users can share tips on where to go to score a soon-to-expire dose. In the NOLA Vaccine Hunters group (one of the first groups of its kind), the description reads: "COVID-19 vaccines are an important & precious resource, and unfortunately, many doses are thrown away every day. In this group, we will collect & share information about places where people of any age can get vaccinated without restrictions and *not* at someone else's expense."
Out of curiosity I joined two Facebook groups for "vaccine hunters" in both my state and county and though the groups are small and mostly inactive, it does seem like a fractured whisper network of people sharing rare hot-tips on hospitals and clinics they somehow managed to snag a leftover vaccine at if you have the time to drive around and hope lightning strikes twice. Joe Biden says he has a plan to speed up the vaccine rollout, here's to holding out and hoping it happens.