Pediatric Office Sends A Very Clear Message About Vaccines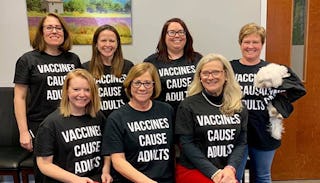 Image via Legacy Pediatrics
All proceeds from the shirt sales will go to charity
Vaccines have been front and center in recent months with outbreaks of measles popping up in New York, Texas, and Washington State — for a total of more than 120 cases in 2019 alone. When a recent outbreak in Monroe County, New York happened, local physicians decided to bring attention to the situation and remind people just what vaccines do cause — adults.
Legacy Pediatrics PA Kate Shand said she got an idea when she saw a meme and decided to turn into a t-shirt. The black t-shirts emblazoned with bold white letters in all caps, saying "Vaccines Cause Adults." The pediatrics provider posted a picture of their team wearing the shirts on their Facebook page next to the caption "Vaccines. Save. Lives." to combat the misinformation often found online about their side effects.
"Kids are getting sick from vaccine-preventable illnesses, which shouldn't happen in 2019," pediatrician Dr. Janet Casey tells ABC 13 WHAM. "One of the things that are so important for pediatricians and other healthcare givers is to get out there and make it as loud a message as possible that vaccines save lives."
The shirts were printed by Crazy Dog T-Shirts in Rochester for free. "The whole staff wore the shirts and they were incredibly popular," owner Bill Kingston says. "She called me and told me everyone wants these t-shirts. They're great. We put our heads together and thought maybe this can be a voice for the people on the vaccination side."
Casey tells Scary Mommy she's surprised by all the attention the shirts have received and disheartened their post being used by anti-vaxxers to spread hate. "I knew we would attract the attention of some anti-vaccine proponents but I had no idea that the post from Legacy Pediatrics would be sent to many anti-vaccines groups around the world so that they could attack us," she said.
"I am saddened by the anger and the very personal attacks leveled against Legacy Pediatrics and our patients and those who have responded to the post in support of vaccines. Everyone can have their opinion, ours is based on factual and strong data."
According to the Centers for Disease Control and Prevention, one in ten children with measles will get an ear infection, which can lead to permanent deafness. One in 20 children will develop pneumonia and one in 1,000 will develop encephalitis (brain swelling that can cause brain damage). One or two in 1,000 children will die.
Measles was considered to be eradicated in 2000 until the anti-vaxx movement claimed vaccines caused autism, cancer, and even death in children. Throughout the years, scientists have disproven these claims, but it hasn't stopped the spread of misinformation.
One such lie that is often spread is that doctors get paid for vaccines by drug companies, which Casey said couldn't be further from the truth. "Healthcare providers do not get paid by drug companies to give vaccines, that is absurd," she said. "The cost of vaccines are paid by insurance companies and the Vaccines for Children federal program. Healthcare providers are paid an administration fee to cover the cost of the materials needed and the manpower to give the vaccines."
The problem has gotten so severe in such a short period of time, the World Health Organization named vaccine hesitancy as one of its top ten threats to global health in 2019 along with the global influenza pandemic, antimicrobial resistance (drug-resistant "superbugs"), humanitarian crises, and lack of primary health care.
Measles can be transmitted via fluid from an infected person's nose or mouth, meaning you can inhale the virus when they cough, sneeze or even talk. Infected people can also transmit the disease before they show any signs themselves and are contagious for four to five days after developing the rash. For those unable to be vaccinated (newborns, the critically ill, and those medically unable to receive vaccines), this can be a life-threatening situation.
Legacy Pediatrics is planning on selling the t-shirts at their office, and you can also order them direct from Crazy Dog T-Shirts. Proceeds from all sales will be donated to charity.