'Legally Blonde 3' Is In The Works So Dust Off Your Bend And Snap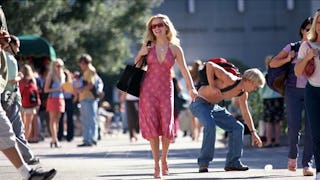 Image via Tracy Bennett - © Metro-Goldwyn-Mayer Studios Inc.
Is Elle Woods president yet? Soon, we may find out
Most chick flicks get cringier and cringier as time goes on. Gender roles and stereotypes become outdated and less accepted, and common character tropes get overused and worn out. Even the name "chick flick" makes us cringe in a 2018 world. But one girl-power movie franchise has withstood the test of time, and is as hilarious (and progressive) now as it was 17 years ago, when it first hit theaters.
Yes, of course I'm talking about Legally Blonde.
Legally Blonde was the girl-power feel-good flick for a generation of women. We still love it as fiercely as we did the first time we saw it. And now all our dreams are coming true, because Reese Witherspoon is reportedly in talks and getting close to closing a deal to reprise her role as Elle Woods in a third Legally Blonde movie.
I'm sorry, I just hallucinated. What did you say?
Deadline reports that Witherspoon is negotiating with MGM, the same studio that made the first two movies, and that most of the creative team, including writers Kirsten "Kiwi" Smith and Karen McCullah and producers Marc Platt and Adam Siegel, are involved as well. The script is reportedly already being written, so the next step is to secure a director. We don't know anything about the plot yet, but 17 years after the original and 15 years after the sequel, there's plenty to catch up on in Elle's life. Is she president yet? Has Bruiser's Bill been an effective piece of legislation? Is Emmett still the husband of our dreams? (Obviously he is.) We're here for whatever this ends up being, TBH.
Because sure, Legally Blonde 2: Red, White and Blonde wasn't the cult classic its predecessor was, but now, in 2018, the time is so ripe for a revisit to the world of Elle Woods, one of earliest feminist film heroes. Think about it — aren't you dying to hear Elle's take on the #MeToo movement? To see her dismantle the NRA and pass meaningful gun reform laws? To be the first female president and lead us all to world peace, all while reminding us that perms don't work for everyone? Because Elle can do all that, and we cannot wait to see it play out onscreen.
This article was originally published on