LEGO Creates Building Set For Grown-Ups That Helps Reduce Stress And Anxiety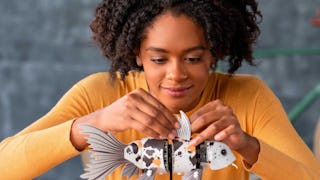 Image via YouTube/Lego
Finally, a LEGO set just for adults
Popular toymaker LEGO recently launched a new product created for adults (though I'd argue all LEGO are for adults) meant to help improve our mental health. The new "FORMA" LEGO is "designed to help you reconnect with your imagination and disconnect from the stress of life," and it's definitely worth checking out.
LEGO, in partnership with IndieGoGo, has launched a crowdfunding effort of the latest brainchild of LEGO Ideas — the brand's platform for open source innovation. LEGO pieces are used to create a fish skeleton and each of the four options (or customizable skins) available come with a crankshaft and gear system that lets them move like they're in motion.
According to IndieGoGo, the purpose of these new FORMA LEGO is to encourage play in adults. Throughout the process, they spoke to potential customers to learn about their needs and get input on their concepts. Then, they surveyed more than 13,000 people to understand the relationship "between well-being and play."
What they found was 91 percent of respondents believe play is good for their well-being and 86 percent believe it helps them feel more relaxed, will reduce stress and anxiety.
And with 294 individual elements, that's a whole lot of play in one box.
The customizable skins come in Koi, Shark, Splash Koi, or decorate your own with the Ink Koi Skin. It looks like they'll also sell "Super Boxes" which will come with all four skins. According to IndieGoGo, they'll be ready to ship in January 2019.
Some of you are probably thinking, "Um, 294 individual pieces of anything would actually give me more anxiety than less." And for the impatient person (ahem), it just may. But many forms of play have been shown to reduce anxiety because it "increases mindfulness of the present moment, calms the mind, and reduces stress to help give yourself a break."
LEGO, as a brand, has always meant to foster imagination, creativity, and inspire innovation in kids. It's also a great way for parents to sit down with their kids and spend quality time building something together. So, it makes sense they would create a product specifically designed to also help adults.
The experience, they say, has been designed for adults, but can also be used by children ages 12 and over. "We envision it being used as a play product," they said, "but also as a display item." Something that's creative, purpose-built, and reduces stress sounds like a pretty great investment to me.