There's a 6,020-Piece Hogwarts LEGO Castle In Case You Have A Spare 97 Hours
by Valerie Williams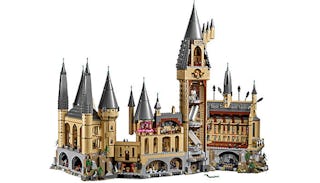 Image via LEGO
LEGO is releasing a 6,020-piece Hogwarts Castle
If you're a diehard Harry Potter fan, we've got a fun activity to keep you busy this fall. LEGO just announced the release of a new 6,020-piece Hogwarts Castle — so if you have $400 and a lot of free hours to fill, feast your eyes on this.
Can you believe? Hogwarts Castle in all its insanely detailed glory. LEGO thought of literally everything with this masterpiece.
Oh look, it's Dumbledore, Harry, and the Mirror of Erised in perfect, tiny, LEGO form.
The set includes four minifigures and 27 microfigures along with essentials such as five boats, Hagrid's Hut, and the Whomping Willow.
Check out the Great Hall complete with buildable stained glass windows.
It features locations such as the chessboard chamber from Sorcerer's Stone.
And OMG, the Gryffindor common room. Can't even stand it.
The original 1,290-piece Hogwarts Lego set (which would've taken me a good six months to build but has now been multiplied by five) didn't include Ron Weasley, but this set does.
The scale of this castle is also much larger than the previous version. Oh, hello, an actual moving staircase. We've died and gone to LEGO heaven.
They even gave us Dolores Umbridge's creepy pink office.
This castle is basically a detail-filled dream come true for serious Potter (and LEGO) fans. Get it starting September 1st on the LEGO website or in LEGO stores and August 15th for LEGO VIP members.
This article was originally published on