Kids In Wheelchairs Finally Get A Lego Minifigure That Looks Like Them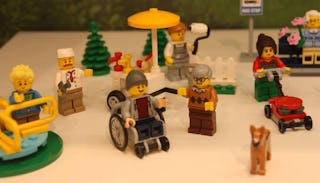 Lego has plans to release a new set of bricks that includes a boy in a wheelchair.
It's been a good week for representation in toys. First, Mattel announced Barbie is getting some more body positive dolls, and now Lego is making headlines for an exciting new toy set featuring a young boy in a wheelchair.
The Lego news blog Promobricks leaked news of the figure on Sunday, and Lego confirmed the reports later in the week. The new set is called "Fun In The Park" and will feature a boy in a wheelchair, a cyclist, a hot dog vendor, some other characters you'd see out on a day at the park, and a service dog. According to the Sunday Post, Lego plans to release the new set in June.
The move is seen as a victory for Toy Like Me, a group that advocates for better representation of disabilities in toys and has been pressuring Lego to make a move like this for the past few years. Co-founder and journalist Rebecca Atkinson has been leading the charge, working as a creative disability consultant with Playmobil and authoring a petition to Lego urging the toymaker to "think outside the brick box" and include differently abled characters in their sets.
The petition ended up garnering over 20,000 signatures, and Lego Duplo released an elderly character in a wheelchair last July, but Atkinson has been waiting for a set that represents younger people with disabilities. In a statement to The Mighty, Atkinson applauded Lego's latest effort, saying:
"For Lego to include a wheelchair-using mini-figure in one of their sets is a huge deal. I'm not sure they even realize themselves what they have done. It's massively significant. For a brand as large and loved as LEGO, this kind of incidental inclusion speaks volumes. It says to children with disabilities that the brand is behind them, that they are part of the cultural mainstream."
She adds that she hopes this is "the beginning of a real core brand commitment from Lego" to continue positively representing kids and young people with differing abilities in all of their merchandise.
According to UNICEF, there are 150 million kids worldwide living with disabilities. Given that huge number, it makes no sense that so many people have to work so hard just to get one or two toymakers to even consider making a toy that features a character with disabilities. Kids should be able to have toys that look like them, that represent them, and that allow them to play and imagine themselves in any scenario. That means making toys that are representative of many, many different types of people.
Lego is hugely popular and influential, so hopefully their attention to this matter will encourage others to follow in their footsteps. A Lego character in a wheelchair is a big deal for so many kids, and it'd be great to see other brands make the same strides towards being more inclusive.
This article was originally published on