Lego Will Pay For Your Shipping Of Unused Lego Bricks To Kids In Need
by Julie Scagell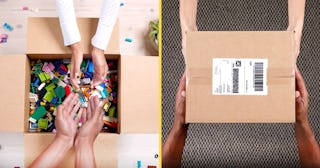 LEGO
The LEGO Replay program lets people give their LEGO bricks to kids who will love to play with them
As if there's not enough to already love about LEGO, the company recently announced the launch of a new program aimed at helping kids in need so they can have LEGO bricks to play with too.
LEGO Replay, a new pilot program, is encouraging people to send in all of their previously used LEGO bricks and donate them to U.S. children's nonprofits. According to their website, any and all LEGO are welcome — "Duplo, small bricks, big bricks. They don't need to be full sets. Just place whatever bricks you'd like to donate inside a box." What's more — LEGO will pay for you to ship them back.
The process couldn't be any easier. Just collect any LEGO you have laying around the house, place them in a cardboard box, print out the free shipping label online, and then depending on the label, call either UPS or FedEx to have them pick up the package at your door. Once the company receives the LEGO package, it will be sent to the Give Back Box facility, where the bricks will be sorted, inspected, and cleaned.
Most people don't throw away their LEGO bricks, according to Tim Brooks, the Environmental Responsibility Vice President at the LEGO Group. "The vast majority hand them down to their children or grandchildren. But others have asked us for a safe way to dispose of or to donate their bricks. With Replay, they have an easy option that's both sustainable and socially impactful." As part of its Planet Promise, the goal is for used LEGO to go to new homes where they can be rebuilt and replayed with – having a "new creative life."
LEGO is working in collaboration with Give Back Box, Teach For America, and Boys and Girls Clubs of Boston. Teach For America will receive the majority of the bricks and will provide them to thousands of classrooms across the country. Once the pilot is complete in spring 2020, the LEGO Group may decide to expand the program.
"Learning through play can have a tremendous impact on a child's cognitive development. Through play, children develop fine motor skills, think creatively, and can learn how to problem solve through teamwork," said Susan Asiyanbi, Teach For America's chief operating and program officer. "But not everyone has access to such resources. LEGO Replay, and the instructional resources they provide educators will help give more students access to this opportunity."
The Give Back Box agrees. "I am excited to join the LEGO Group in this pilot program," said founder Monika Wiela. "Growing up in Poland, I didn't have many toys as a child, so this collaboration is rather personal for me. What's better than giving a child the gift of play?"
This article was originally published on