LEGO Wants Your Little Girl to Care About the Shape of Her Face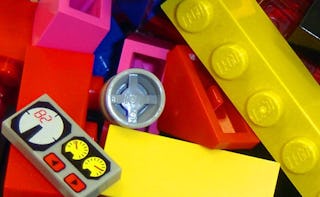 The March-April 2015 LEGO Club magazine includes beauty tips for girls, much to the chagrin of Sharon Holbrook, the mom of a 7-year-old girl. Holbrook's daughter, flipping through her LEGO Club magazine, suddenly wanted to talk about face shapes and flattering haircuts for oval- or square-faced little girls.
The magazine has little LEGO women sitting in a LEGO hair salon, presumably about to have their roots done or their eyebrows waxed. Some sample copy from one of the LEGO-lady beauticians:
"You, yes YOU are beautiful but if you're ready to change up your look, read on for some tips and tricks on how to get the best haircut for the shape of your face."
LEGO introduced its "LEGO Friends" line, marketed to girls, a few years ago, and promptly met with criticism that girls don't need special sets with beauty parlors or cafes—the plain old LEGO sets are fun enough without introducing gender-conforming narratives. Holbrook says her daughter, for better or worse, was more interested in the LEGO Friends than in her brother's plain old ordinary LEGOs, and so, because pink building toys are better than no building toys at all, Holbrook bought them.
But Holbrook says that introducing the beauty-tips narrative—which plants the idea in little girls' minds that there's something wrong with them physically that needs to be fixed—is a LEGO bridge too far.
"LEGO Friends, according to the LEGO website, is meant for children ages 5 to 12. Children far too young to be told by the oval-faced (of course) LEGO 'Friend' Emma that little girls with square faces need a haircut to 'soften the edges of your face' while the unfortunate long-faced girls—remember, ages 5 to 12—can get a haircut to 'help your face appear slightly shorter.'"
It's a little early to encourage young girls to turn their attention to primping. (Not as early as it could be, though—check out this baby toy that comes with a lipstick and a mirror.) After all, at age 7, kids should be running, jumping, and…playing with LEGOs.
This article was originally published on