The Most Badass Ladies In Science Are Becoming A LEGO Set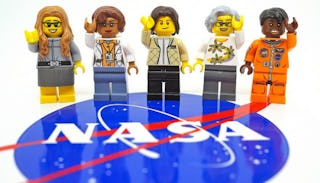 Via Maia Weinstock
Lego's new Women of NASA sets will feature five feminist role models for all future scientists
As a former LEGO tinkerer and a now-grownup feminist, I remember the frustration I felt when my Christmas LEGO set was a princess castle while my brothers got badass Indiana Jones scenes. But gone are the days of LEGO for girls only being pink, letting girls build dream houses with window planters and white picket fences while their male counterparts constructed race cars and spaceships. LEGOS are for all kids now, and the company is proving it with a new set due out later this year: Women of NASA.
The set was designed by science communicator Maia Weinstock, and features five women who played integral parts in NASA's history.
"Women have played critical roles throughout the history of the U.S. space program," Weinstock wrote in a description of the set. "Yet in many cases, their contributions are unknown or under-appreciated — especially as women have historically struggled to gain acceptance in the fields of science, technology, engineering, and mathematics."
Included in the set are Katherine Johnson, the Apollo mission mathematician featured in Hidden Figures:
Sally Ride, the first American woman to go into space, and Mae Jemison, the first African-American woman in space.
Nancy Grace Roman, who helped build the Hubble Space Telescope, gets her own rad set-up.
And Margaret Hamilton, the woman responsible for handwriting the stacks of code that got the Apollo shuttle to the moon.
The art for the sets was created by Weinstock, who pitched the idea to LEGO, and it's still unofficial, though the actual sets that will be sold will be modeled after Weinstock's ideas.
Weinstock first submitted her photos to LEGO Ideas, an online platform where anyone can pitch an idea for a LEGO set. In less than a month, the Women of NASA set gained the support of 10,000 followers, which pushed LEGO to officially consider it for future production.
Women of NASA doesn't have a set release date yet, but LEGO estimates that it'll be available by the end of 2017 — hopefully in time for Christmas so every little girl (and boy!) can have one.