LegoLand New York Is Officially Opening in July, 2020 And We Can't Wait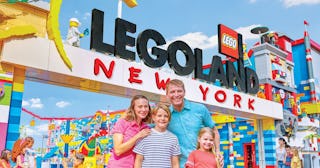 LEGOLand
Legoland will make its home in Goshen, NY
If your kids are into LEGO (and you are as well, because LEGO), the company just announced some exciting news. LEGOLAND New York is officially opening on July 4, 2020, and new photos released have fans marking their calendars.
Right now, we know that the park will have eight themed lands — Bricktopia, LEGO Ninjago World, Heartlake City, Knights' Kingdom, LEGO City, Pirate Shores, The Factory, and my personal favorite, Miniland — where visitors can take in ten global destinations – all built out of LEGO bricks (according to their website 22,231,368 give or take).
What's more, the park will be attached to a LEGOLAND Hotel similar to the one in Carlsbad, CA, so guests can take in all the sights and then stay in one of 250 rooms which are designed for families (think LEGO features and themed play areas everywhere) and play some more.
The park is designed for kids ages two through 12 and their families but this is a place where there is no age limit because LEGO is for everyone and I challenge anyone to open a box and not have a good time.
"Legoland New York is coming and it's time to get excited," Legoland New York's Public Relations Manager Matt Besterman said in a press release. "This 150-acre theme park is a multi-day experience with more than 50 rides, shows, and attractions . . . just 60 miles northwest of New York City, Legoland New York Resort is the first major theme park in decades to be built in the northeast — aiming to be the ultimate family destination for visitors from New York, New Jersey, Connecticut, Pennsylvania, Massachusetts, and beyond."
The first major theme park to make its way to the Northeast in over four decades, the 150-acre theme park will be located in Goshen, NY and the fact that it opens on the Fourth of July means it will come out with a bang. "The Fourth of July means family," the press release continued. "And at LEGOLAND theme parks, families can ride, climb, play, learn and build together. At the same time, kids can celebrate their own independence by riding their first roller coaster, the Dragon, or driving their first car at LEGOLAND Driving School."
If you can't wait until July, the theme park also announced that its three tiers of Annual Passes are on sale starting at $119.99, along with single-day tickets starting as low as $62.99 and all are available for purchase on their website, which would make an awesome gift for the kiddies for the holidays.
Judging by the pictures, it looks like days of fun for kids of all ages.
This article was originally published on