Lena Dunham's Reaction To 'Girls' Writer Being Accused Of Assault Is Infuriating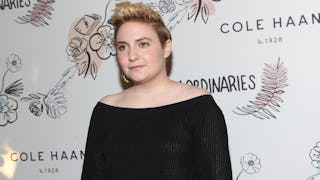 Image via Steve Zak Photography/FilmMagic
Dunham claims to have "insider" information about the assault claims
Since accusations of sexual assault and misconduct exploded with Harvey Weinstein, a wave of Hollywood women are coming forward with their experiences of abuse and harassment. The list of accused men seemingly grows by the week and now you can add Girls writer Murray Miller to that list.
Actress Aurora Perrineau is accusing Miller of raping her in 2012 when she was 17 years old, according to The Wrap. The publication claims to have obtained a passed polygraph test of Perrineau's where she details a night at the Standard Hotel where she had some drinks.
"He was flirting with me. I told him repeatedly that I was 17 years old," Perrineau said in the statement. Miller was 35 at the time. Perrineau allegedly says she was with a group of friends who drove Miller home that night and everyone went into his home, but she didn't want to. She says she felt like she had to go along with everyone else.
"At some point, I woke up in Murray's bed naked. He was on top of me having sexual intercourse with me. At no time did I consent to any sexual contact with Murray," she said in the statement.
Perrineau is now 23, and known for her role in Jem and the Holograms, Passengers, and other big and small screen productions.
Miller and his legal team vehemently deny the allegations and even claim that Perrineau and people close to her tried to ask for large sums of money from him. If this isn't enough of a nightmare, Lena Dunham, Girls creator, decided to immediately defend her co-showrunner.
Dunham and other co-showrunner Jenni Konner, said in a statement to The Hollywood Reporter:
"During the windfall of deeply necessary accusations over the last few months in Hollywood, we have been thrilled to see so many women's voices heard and dark experiences in this industry justified. It's a hugely important time of change and, like every feminist in Hollywood and beyond, we celebrate. But during every time of change there are also incidences of the culture, in its enthusiasm and zeal, taking down the wrong targets. We believe, having worked closely with him for more than half a decade, that this is the case with Murray Miller. While our first instinct is to listen to every woman's story, our insider knowledge of Murray's situation makes us confident that sadly this accusation is one of the 3 percent of assault cases that are misreported every year. It is a true shame to add to that number, as outside of Hollywood women still struggle to be believed. We stand by Murray and this is all we'll be saying about this issue."
Then there's what she said on Twitter.
Honestly, it's a bizarre choice for the irreverent, so-called feminist that she claims to be because one of the tenets of feminism is to believe and validate women first (especially because we're never believed). Or she could've just shut up and let the legal process take its course as she may be way too close to the situation to make an unbiased opinion, let alone comment.
Either way, she's in deep shit on the internet and Twitter is dragging her.
https://twitter.com/jetpack/status/931685964782727173
This isn't the first time Dunham has been accused of being anti-feminist, or the textbook example of whitewashed, mainstream feminism. As a public figure and proclaimed feminist she certainly has opened herself up to judgements and critiques from the masses. Let's just hope for the sake of victims everywhere (and her dignity) that this time, she really listens.
As for the case against Miller, it is being investigated by the Los Angeles police department.
This article was originally published on