Lena Dunham Uses Nude Instagram Post To Raise Over $25K For Charity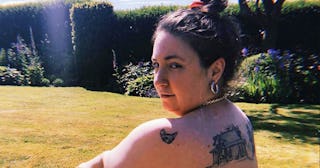 Lena Dunham via Instagram
Lena Dunham is encouraging people to love themselves and raising money for a good cause
Lena Dunham wants you to tell her what you love about yourself. The actress/writer/producer took to Instagram to share a very glowing, very naked picture of herself and asked people to respond with compliments about themselves. For every person who followed through, Dunham said she would donate one dollar to a very good cause. A lot of people have commented and a lot of money has already been raised.
This whole dreamy gathering of self-love and positivity started when Dunham shared a picture of herself, sunbathing in the nude. "Any negativity that comes your way is just an excuse to love yourself even more, right?" she wrote. "Comment below with a reason you love yourself. I'll go first: I'm a sober accountable adult who still loves to get naked."
She added that each comment would earn a dollar for Friendly House LA, an addiction treatment center that helps women recover from substance abuse disorders. In less than 24 hours, her campaign has raised more than $25,000, according to HelloGiggles.
If you want to find a little corner of positivity on the internet, head to the comment section. It's stuffed with people sharing all things they love about themselves – both big and small. A few celebrities jumped on the compliment bandwagon, as well.
"I love myself because it's the greatest love I've ever known. I love my soft body, tender heart, resilience & courage to keep going," Tess Holiday wrote. Parks and Rec star Retta added: "I try to love unabashedly even though I've had my heart broken more than I can count."
Dunham posted some of her favorites on her Instagram story and they will make your heart glow.
And if you want even more positivity feels, just keep diving through Dunham's Instagram. She's refreshingly open and honest about her complicated journey towards self-love. "At 32: I weigh the most I ever have. I love the most I ever have," she wrote in one post. "I read and write and laugh the most I ever have. And I'm the happiest I've ever been."
There's still time for you to have your own personal moment of positivity. Head over to Dunham's post this week, comment what you love about yourself, and help women get the substance abuse recovery they need.
This article was originally published on