Lena Dunham's 'Troll Quote' Sweatshirts Backfired Spectacularly
by Thea Glassman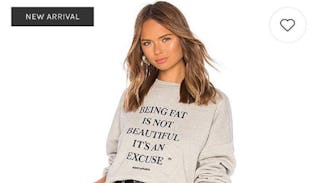 Image via Twitter/Revolve
Lena Dunham helped design sweatshirts with internet troll quotes on them and the backlash was swift
On Wednesday, the internet caught wind of a sweatshirt being sold by Revolve with the quote "being fat is not beautiful it's an excuse" splayed on the front. It turns out that that the item of clothing was part of a collaboration between the brand LPA and Lena Dunham which, according to Dunham, was meant to "highlight quotes from prominent women who have experienced internet trolling and abuse." People were quick to raise some very, very valid concerns about that whole idea.
A quick list of the quotes that were included in the sweatshirt collection: "Too boney to be boned," Slut feminist nightmare," and "Horrible result of modern feminist." The name of person who had received those insults was printed in a smaller font underneath. People across the internet were quick to pick up on the fact that a thin model was shown wearing the $168 "being fat is not beautiful" sweater. So, that's terrible enough. Then, the store decided to make a bad situation even worse by choosing not to sell the sweatshirt in any sizes past extra-large. Frankly, it's hard to see why anyone thought this was a good idea, regardless of available sizes.
So, basically, Revolve wasn't trying reclaim this awful troll-y tweet. They came off like they were supporting it.
Dunham pulled her support from the line, explaining that she doesn't condone the way that the retailer marketed the sweatshirt. "Without consulting me or any of the women involved, @revolve presented the sweatshirts on thin white women, never thinking about the fact that difference and individuality is what gets you punished on the Internet, or that lack of diversity in representation is a huge part of the problem," she wrote on Instagram.
Revolve has since issued an apology for the way they handled this whole mess. "We are SO SORRY for hurting and offending you," the brand wrote in a statement. "The intention was not to promote or endorse these hateful words, but instead to empower all women by making them understand that even the world's most beautiful and successful women have been subject to hateful message from internet bullies."
Of course, the larger conversation here is if we should even have these kind of sweatshirt quotes in the first place. I'm not completely convinced that wearing the hurtful, offensive words of internet trolls is at all empowering for women. Especially without any sort of context. Aren't there better, healthier ways to raise women up than suggesting that they wear those ugly, hurtful quotes on their bodies?
But, if brands actually want to do their part in empowering plus-sized women, then they better actually include those women in their campaigns.
"I hope this is a lesson for brands that if you are going to launch merch intended to break down stereotypes in regards to 'fat' bodies, you need to use a VISIBLY plus size model & have size inclusive sizes," model Tess Holliday tweeted. "You can['t] stop at XL (which is prob a junior plus), you have to do better."