Lena Dunham Slams Trolls Who Commented On Her Weight & Wedding Pics
by Erica Gerald Mason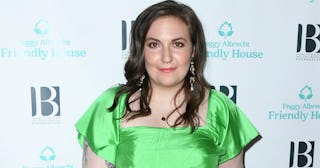 Jon Kopaloff/Getty
The Girls creator shared pics of her wedding day and some people were straight-up jerks
Look, we expect kindergartners to behave better. After sharing details about her wedding with her fans, during what should have been a celebratory moment of time, Lena Dunham has been the target of some nasty body shaming. Fans don't have to enjoy Dunham (or her work, for that matter), but discussing someone's weight is just so many levels of wrong. Criticize the behavior, not the person, dude.
The Girls writer and creator opened up about how the comments blindsided her. "This past week was lovely for so many reasons. Firstly, I got married. My husband and I traveled to the country and looked at bee hives & fields of wildflowers," Dunham began her post.
"[…] But all of this safety made me forget, for a moment, why I've created such intense boundaries with the internet over the past few years," Dunham continued. "It's a little too easy to feel the glow of support and forget about the cesspool lurking behind it- so I took a peek, and saw some gnarly shit, most not worth responding to or even sharing with you."
The cruel comments were something Dunham didn't miss about the internet but she felt the need to speak out about it. "But one narrative I take issue with, largely because it's a story I don't want other women, other people, to get lodged in their heads is that I should somehow be ashamed because my body has changed since I was last on television," she writes.
"Firstly 'did Lena eat the cast of Girls' just isn't a very good joke- I could punch that up for the Tweeter. Secondly, it's ironic to have my body compared to a body that was also the subject of public scorn- an echo chamber of body shaming," Dunham wrote. "But lastly, when will we learn to stop equating thinness with health/happiness? Of course weight loss can be the result of [a] positive change in habits, but guess what? So can weight gain."
After recovering from prescription drug addiction, Dunham pointed out that gaining weight isn't a bad thing. "In the 4 years since I've gotten sober and begun my life as someone who aspires toward health and not just achievement. These changes have allowed me to be the kind of sister/friend/daughter that I want to be and yes- meet my husband (who, by the way, doesn't recognize me in those old photos because he sees how dimmed my light was.)"
The caption ends with a mic drop statement. " I say this for any other person whose appearance has been changed with time, illness or circumstance-it's okay to live in your present body without treating it as transitional. I am, and I'm really enjoying it. "