Leslie Jones' Fire Olympic Commentary Is Back, Baby!
by Madison Vanderberg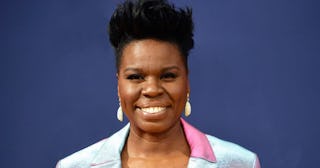 Matt Winkelmeyer/Getty
Leslie Jones brings her hilarious color commentary back to the Summer Olympic Games
Leslie Jones is back, baby (as the unofficial host of the 2021 Olympic Games)! After sharing her witty and enthusiastic commentary for Team USA during the 2016 Summer Olympics and the 2018 Winter Olympics, Jones is back on Twitter and she has some thoughts about the 2021 Olympic games.
The Summer Olympic Games in Tokyo, Japan are set to be held from July 23 to August 8, 2021, so currently, Team USA is competing in the U.S. Olympic Trials. Unfortunately, Jones can't give her running commentary at the games next month as it will be a spectator-free event due to the ongoing coronavirus pandemic, so we'll just have to settle for her live-tweets.
"Look at this shit, they're throwing spears in the god dang Olympics" Jones yelled at the screen during a women's track and field trial on Monday, June 28, 2021.
Jones had a lot to say about a ton of events, but she got heated during one of Simone Biles' performances.
During the U.S. Olympic Gymnastics Trials on Friday, June 25, 2021, Simone Biles waited for her score on the balance beam, as the judges deliberated about "devaluing" Biles' impressive feat on the beam. Long story short, in an effort to deter other gymnasts from trying skills they are not physically capable of doing, the International Gymnastics Federation watered down the value of a never-before-done move that only Biles can do. A move so impressive, they didn't have a name for it, so they named it after her.
Naturally, Jones had some thoughts about the whole BS "controversy" surrounding Biles' namesake move and how judges won't give it the value it deserves.
"You hear this? Controversy where she made up a dismount that they had to name after her because can't nobody else do it," she said. "Let me explain something to you, world! You know there's a first time for everything, right? Don't be mad because this girl is so damn talented, y'all can't even keep up with her flips."
"How do you 'devalue' a jump?" Jones added. "If anything, I'd be like, 'Simone, we're just going to give you 10, OK? We don't really know how to judge that cause nobody ever really done that one before but don't do it again, OK? Cause nobody else can do that. But you won the Olympics, OK, you won.'"
And during another Biles event, Jones joked, "Just give her the medal now, she already won the Olympics at the trials. How you already won the Olympics when it's just the trials? They don't understand that self-motivation is a motherfucker."
But two days later, Jones was back on the gymnastic beat and literally cried when Biles' protege Jordan Chiles killed it on her floor routine.
"That's no wobbles," Leslie Jones, commenting on the beam.
Leslie doesn't just comment on the athletes, she comments on the commentators too!
The reason Jones' commentary is so good is that, as she puts it, "I actually give a fuck about the athletes."
We'll sign off with her best caption about the Olympic trials thus far, which is just, "Yo, I'm just so impressed." Same, girl.