Leslie Jones Is Leaving 'SNL' To Host A Reboot Of 'Supermarket Sweep'
by Christina Marfice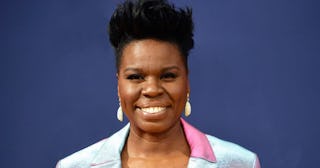 Matt Winkelmeyer/Getty
Leslie Jones is rebooting a classic show and we truly can't wait
Earlier this week, news broke that Leslie Jones, AKA one of the strongest and funniest women in the universe, was leaving her spot on the SNL cast and won't be appearing on its upcoming season. Hearts broke everywhere, until today, when we learned why she's leaving SNL.
It turns out Jones will be producing and hosting a reboot of an absolutely classic TV game show: Supermarket Sweep.
That's right. The '60s show that was first rebooted in the '90s that made grocery shopping into a fun way to make a bunch of money instead of a weekly chore. It's coming back, and with Leslie Jones at the helm. Pinch me, because I am clearly dreaming.
According to Deadline, Jones was a huge fan of Supermarket Sweep when she was growing up, and who can blame her? That show was fantastic. In case you don't remember, or (gasp!) are uninitiated, the show was divided into two parts. In the first part, teams competed to try to guess the price of popular grocery items. For every correct guess, they gained an extra 15 seconds that they could use in the second half of the show, where they would race through the grocery store trying to fill their carts with the bougiest and priciest groceries they could find, because the team with the most expensive cart at the end of the time limit won the game.
What makes the show even better is that it was done Jeopardy-style, meaning whichever team won the episode got to stick around and keep competing until they got beat. You could really fall in love with some Supermarket Sweep teams. I remember multiple occasions where I'd fake sick to stay home from school because an awesome team was on a great winning streak.
And if you've seen any of Jones' commentary — like during the Olympics, or her Game of Thrones recaps — you know she's going to be a perfect and hilarious addition to a show that's pretty off-the-wall on its own. Watching people grocery shop? As entertainment? You bet, and it's a real good time.
This news definitely softened the blow for people who were upset that Jones was leaving SNL, and they took to Twitter to say that this is definitely a fair trade.
https://twitter.com/jetpack/status/1167102393043050500
This isn't the only exciting project Jones has coming down the pipeline. She's also set to make an appearance on the reboot of the $100,000 Pyramid, facing off against Rosie O'Donnell. And word on the street is she has a Netflix comedy special in the works. You know we'll be tuning in for that, too, just as soon as Supermarket Sweep is over.