National Treasure Leslie Jordan To Host New Cleaning Competition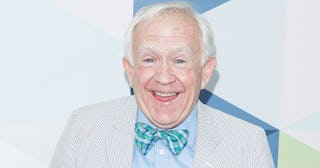 John Lamparski/Getty
Pandemic Instagram star Leslie Jordan will host an upcoming cleaning show for Quibi
Leslie Jordan, veteran sitcom actor and the unlikely Instagram star of the pandemic, has just signed on to host a cleaning show for Quibi and consider me signed all the way up. Squeaky Clean will feature "cleaning obsessed" contestants who will literally clean various surfaces while Jordan provides color commentary. Move over The Great British Baking Show, I have a new series to casually zone out to.
Jordan is best known for his roles in Will & Grace and the American Horror Story franchise, but if you were playing "Celebrity," he wouldn't be the first name you blurt out, you know? But then the pandemic happened and he became something of an internet folk hero and now it's like, "Where have you been?" if you don't know who Leslie Jordan is.
https://www.instagram.com/p/B-YLteNBoLQ/?utm_source=ig_embed
Bored at home during the pandemic, the 65-year-old actor began sharing funny videos from quarantine, some including his elderly mother and twin sisters who he was living with in Chattanooga, Tennessee, and I dunno if it's his southern drawl or what, but his videos can only be described as "fucking delightful." He told the Chicago Tribune that he was just sharing videos on Instagram to stave off boredom, but has adjusted to his overnight stardom.
"What I love though, are people that pull me aside and say: 'Listen, I don't want to bother you, but I've had a rough go. I've been locked down. I've got kids and I looked forward to your posts and you really, really helped me through this tough time.' When people tell you things like that, you realize comedy is important," Jordan said.
Now imagine that voice and that vibe hosting a show called Squeaky Clean. Amazing, right? Per Variety, the show "will pit three cleaning-obsessed contestants against each other in two competitive rounds – 'Quick Scrub' and 'The Big Clean' – from the shiniest floor in studio competition history."
So far Quibi has released one promo video and I'm already dying. "It's an app, called Quibi?" Jordan says while shrugging.
https://www.instagram.com/p/CGA3givpJqK/
Jordan will host alongside Sabrina Soto, a "resident cleaning and organization expert" and host of the HGTV series The High Low Project. The two will also be joined by a rotating list of celebrity guest judges. Watching people clean to the soothing sounds of Jordan saying "Well shit, y'all?" Sign me up.