by Amber Leventry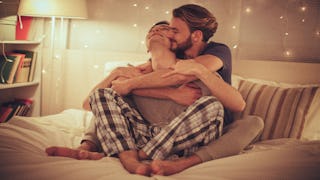 Svetikd/Getty
Yes. I want to talk about gay sex. I want to talk about straight sex too. But first, let me make something clear: A sex act and your sexual preferences — as well as your won't-do-that-in-a-million-years dislikes — do not define your sexual orientation. What gets you off does not equate to the way you fall in love. And the way you fall in love does not mean you can't like certain things in the bedroom. Or elsewhere, for that matter.
Sexual orientation is a spectrum that includes asexual, heterosexual, homosexual, and bisexual individuals. These individuals fall along a variety of gender identities and expressions. You are part of these spectrums. The way you identify as male, female, both, or neither may bump you into a category that defines your sexual orientation if you choose to define it.
I know, I know, you came to learn about gay sex. I promise not to tease you for much longer. I just want to be sure we are all on the same page here, because when most people hear the word sex, their brain goes to the classic definition of intercourse. The standard penis meets vagina gets the spotlight. But if that is the only accepted form of sex, then I am a blushing virgin. But friends, I assure you, I am not a virgin. And I don't blush. I am a vagina-carrying queer person who only wants to have sex with other vagina-carrying people who identify as female. I have never had a penis in my bedroom, but I have had lots of sex.
Gay, lesbian, and queer sex comes in all kinds of ways. (I hope you see what I just did there.) The queers like oral sex, anal sex, and vaginal penetration. I've been told (and millions of free porn clips confirm) that heteros like that stuff too. Funny how that works, and how what we are all looking for is to feel comfortable, satisfied, and loved in the bedroom.
Strip away the stigma of "gay" sex, and a lot of men will tell you they like ass play. If a man likes a finger or more in his ass, that doesn't make him gay. Putting something in your anus does not and cannot change your sexual orientation. If a married man guides his wife's hand to somewhere other than his dick, he is still in love with her. He wants her to tickle his prostate. So do me a favor, cisgender straighties: Stop equating men enjoying anal stimulation with homosexuality. Just stop.
If that shit feels good to you and if your buddy for the night is comfortable making you feel good in that way, then get yours. Also, not all gay men enjoy anal penetration. There is a reason why there are terms like top, bottom, pitcher, and catcher in the queer world. Sex acts do not define sexual orientation.
But speaking of penetration, plenty of cisgender women and individuals with vaginas love it—no matter their sexual orientation. I don't think I need to spell out all of the creative ways to achieve said penetration, but it involves more than a penis attached to a cisgender man.
Both straight and queer women seem to really enjoy their vibrators. Sex toy parties make for a popular girls' night out. Sex shops and boutiques will happily help you find just what you need and the lube to go with it. And many queer women who fall in love with other queer women or vagina-carrying people also love a good strap on. From single to double-sided dildos and the harnesses that go with them, a queer woman can find the right way she wants to enjoy sex.
BUT, just because a lesbian likes penetration via silicone cock, that doesn't mean she wants a real one. She is not harboring hidden feelings of heterosexuality. She desires and is enjoying the woman or queer person attached to the faux penis driving her to orgasm. One more time: Sex acts do not define sexual orientation.
How you fall in love defines your label if you choose to give yourself one. What you do with the person you love or lust for is just sex. It's not gay or straight. It's consensual goodness.
Please talk about sex in all of its forms, not just the penis-vagina variety. It's important to redefine the word so that it can include all of us. It is crucial to include "gay" sex and LGBTQ people during the sexual education conversation in high school health classes because it will lead to safer and less shameful sex for everyone. It will reduce homophobia and transphobia. It will pave the way for acceptance and self-assuredness in the bedroom.
Talking about sex without placing a gay or straight pin on it allows queer and straight folks alike to find what feels right for them and their partner. And if you happen to be bisexual, good for you. Fall in love the way you want and get the orgasms you deserve. No labels required.