5th Grader's Viral Note Reminds Us Why Teachers Are The Real Heroes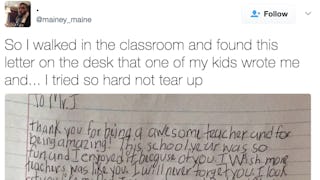 The teacher shared the note on Twitter where it quickly went viral
We all know that what teachers do for kids goes far beyond handing out worksheets and giving tests. They also nurture and shape our children, patiently offering emotional support and even food if that's what a student needs. A powerful letter from a student to his beloved teacher has gone viral and it reminds us exactly how much that support means.
And exactly how amazing teachers are for providing it.
In a tweet that's now been liked a mind-blowing 444,000 times, a student named Markus tells his teacher how much he loves him and details some of the ways "Mr. J." has made this school year "so fun" for the fifth grader.
Mr. J. shared the letter with the caption, "So I walked in the classroom and found this letter on the desk that one of my kids wrote me and…I tried so hard not to tear up."
It reads, "Thank you for being a awesome teacher and for being amazing! This school year was so fun and I enjoyed it because of you. I wish more teachers was like you. I will never forget you."
Anyone else already sobbing into their coffee? This is just too much. But hang on, it gets better.
"I look at you like my Dad. I never met my real Dad but it okay because you treat me like I'm your son." Can we pause a moment to appreciate how it must have felt for the teacher to read this part? For all the thankless work our educators do, seeing words like this must make it all beyond worthwhile.
Markus wraps up his note saying, "You make me so happy. Always feeding me when I am hungry and hug me when I am sad. I will never forget you Mr. J. I love you and I will never forget about you!"
And now, the entire internet has melted into a puddle because this is the sweetest thing ever written. The tweet is flooded with responses from people who are deeply touched by the impact Mr. J. has clearly had on Markus.
Every teacher should print out this letter and keep it close at hand because yes, this was a message meant for Mr. J., but our country is full of Mr. J.'s. That is, teachers who put their all into their jobs, reaching into their own wallets for snacks and school supplies and opening their hearts in order to help students and keep them safe. Learning. Happy. Loved. There are no words for the impact they have and the lives they change for the better.
Oh wait, there are. Words like what Markus wrote, who speaks for the thousands of kids who could tell a similar story about that one teacher that made them feel like they truly matter.
This article was originally published on