'Reading Rainbow's' Levar Burton Is Livestreaming Story Time For Kids
by Christina Marfice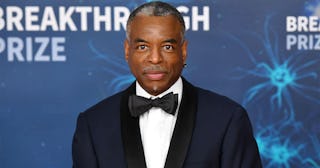 Ian Tuttle/Getty
Storytime with Levar Burton is exactly what we need in these stressful, uncertain times
Parents (and non-parents) of a certain age will remember the calming voice of Levar Burton, who read to us throughout our childhoods via Reading Rainbow on PBS. Now, as many of us enter our second week in quarantine, we need a little of that calm in our lives. These times are stressful and uncertain and while not much can make the world less scary right now, Levar Burton can make it just a little more bearable.
So that's what he's doing. Burton has been recording a podcast for quite a while, where he reads short stories to his audience in audio-only format. But in light of all the scary things happening out there these days, he's decided to start up a livestream where he reads us some of his favorite stories, and his plan is for it to be totally family-friendly.
"I figured that during this difficult time I could contribute by reading aloud to folks who could use some diversion for themselves and their families," Burton tweeted. We couldn't agree more — that's exactly the kind of diversion we need.
The problem that Burton then almost immediately ran into was that there are some legal implications to doing this kind of thing, because choosing a story to read that's under copyright could violate the law. So he put out a request for help on Twitter.
"In order to avoid legal complications, I've gone down the rabbit hole searching through volumes of short stories in the public domain for appropriate content for families and have come up empty," Burton wrote.
And a few different people and agencies came through. First was Neil Gaiman, a prolific author of a number of novels and collections of short stories. "You have my blanket permission for any of my stories Levar," he wrote.
And then there was HarperStacks, the school library branch of HarperCollins Publishing. "We are granting permission for online readings of HarperCollins Children's Books titles through May 31, 2020," they wrote.
So it looks like Burton will have plenty of reading material, and we can all get ready for some live-streamed throwbacks to Reading Rainbow.
Burton isn't the only children's literary icon making our quarantined parenting days a little easier. Authors Mo Willems and Dav Pilkey have both committed to live-streaming drawing lessons and read aloud sessions for little ones who need occupying — and educating.
Finally, some wonderful things to look forward to during these bleak times of self-isolation.