LGBTQ Asylum Seekers Face A Special Kind of Hell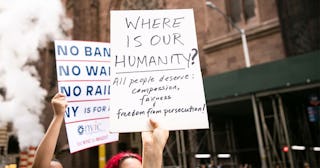 NurPhoto/Getty
There is a lot to know about the current immigration issues—none of which are easy to understand—but many of the conversations focus on families being separated. We see photos of children being taken from their caregivers. We hear about the awful conditions in detention centers. We see parents and children dying just to try to make it to the U.S. southern border, where, if they had made it, they would have been treated like animals. We can't look away from these stories. We can't forget the LGBTQ asylum seekers either. Members of the LGBTQ community need our attention too.
Allegra Love, an attorney and the Executive Director at Santa Fe Dreamers Project, works with transgender women crossing the U.S. southern border to help them seek and apply for asylum from the persecution they experience in Central American countries. Love told Scary Mommy that in Honduras, three transgender women have been murdered in the last week alone. LGBTQ people living in Honduras, El Salvador, and Guatemala face unimaginable levels of discrimination, violence, and death. They flee their homes with the hope of finding protection in the United States. Unfortunately, even if they make it across the border, LGBTQ asylum seekers are still at risk for assault and death. Transgender women are some of the most vulnerable detainees.
Erika Guevara-Rosas, Americas director at Amnesty International, confirms what hundreds of transgender women have been telling Love since reaching the American border: "People are facing vicious discrimination in Central America due to their gender identities, and have absolutely nowhere to run for safety."
Part of Love's job with the Santa Fe Dreamers Project is to ensure immigrants arrive safely at the border; workers meet up with caravans and advise transgender women and gay men on their rights to seek asylum in the U.S. based on their gender identity.
Asserting their identity is supposed to afford them specific protections under U.S. Immigration and Customs Enforcement's (ICE) rules, but when your gender identity is the reason your life is at risk, it's hard to trust that declaring it to a foreign entity will provide different results. However, without the immediate self-advocacy, there is little chance a transgender woman or gay man will escape harassment and assault. Even with self-advocacy, LGBTQ asylum seekers are being treated horribly.
The American Civil Liberties Union (ACLU) reports that 20% of the verified sexual abuse cases occurring in the custody of U.S. Immigration and Customs Enforcement (ICE) involve a transgender detainee. Assaults are perpetrated by both peer detainees and detention officers. Sadly, while some transgender women will be moved to appropriate "trans pods" for protection from this abuse, all transgender women start their stay in detention centers in cells segregated by sex and not gender. This means transgender women are sharing cells with cisgender men.
"Transgender women are 13 times more likely to be sexually assaulted than other detainees," reports the American Psychological Association. Yet, when they complain or report this abuse, they are placed in solitary confinement as a way to protect them. This segregation, however, perpetuates existing depression, anxiety, and suicidal tendencies. It forces a transgender person to choose between abuse and solitary confinement. Neither physical nor mental health concerns of transgender asylum seekers are being taken care of.
The Nation reported that gay men were made to perform sexual favors to get food. Transgender women were told to walk "like men," forced to shower in front of cisgender men, and were verbally and physically assaulted. And sometimes transgender asylum seekers are killed. Johana (Joa) Medina Leon and Roxsana Hernandez Rodriguez both died in ICE custody in New Mexico recently. Both were transgender women and both died as a result of lack of proper medical care. The autopsy of Rodriguez revealed she had been beaten before death and had wounds indicative of handcuff injuries.
The United Nations and ICE have standards of care in place for LGBTQ folks, but ICE isn't following them. The United Nations characterizes solitary confinement as a form of torture, and a report issued in March 2019 by attorneys for the ACLU of New Mexico, Santa Fe Dreamers Project, and Las Americas Immigrant Advocacy Center noted the dangerous and dehumanizing treatment of LGBTQ immigrants at the Otero County Processing Center. Transgender women and gay men are being refused medical care, are being raped, and are being forced to choose to continue being physical violated or sent to solitary confinement for "safety." This treatment goes against U.S. policies to protect LGBTQ folks.
A letter from the ACLU-NM, Las Americas, Santa Fe Dreamers Project reminds those in charge at Otero of their violations: "The 2015 ICE Memorandum on the Care of Detained Transgender People explicitly states that ICE Field Office Directors ("FODs") should 'consider whether the use of detention resources is warranted for a given individual and shall consider, on a case by case basis, all relevant factors in this determination, including whether an individual identifies as transgender…Discrimination or harassment of any kind based on a detainee's actual or perceived sexual orientation or gender identity is strictly prohibited.' Discrimination against a person based on their gender identity or sexual orientation violates the Equal Protection Clause."
Yet we have women like Luz who experience the terror of being hunted and shot in Honduras for being transgender only to arrive in America to endure more attacks.
But there is hope. Even in a climate not always friendly nor free of discrimination for LGBTQ citizens, the United States is still a safer place to be queer than Central America. But queer asylum seekers, specifically transgender women, are not free to be themselves until they are free from detention centers, other detainees, and ICE. Love said there are three ways for this to happen: (1) A judge can grant bond; (2) ICE can release an asylum seeker through parole while they wait for their asylum hearing (which they continue to deny); or (3) a detainee can win their appeal for asylum.
The Sante Fe Dreamers Project has served over 200 transgender women, including working tirelessly to free the over 80 transgender women being imprisoned in Cibola County Correctional Center in the last year. But they need our help. One way to do this is by financially supporting the ground-level organizations working around the clock to be sure legal services are provided to these vulnerable, at-risk women.
Some of the amazing organizations gratefully accepting donations are: Santa Fe Dreams Project; RAICES (The Refugee And Immigrant Center For Education And Legal Services); Transgender Law Center; and Al Otro Lado. Advocacy groups which could use financial assistance include: Translatina Coalition; Trans Queer Pueblo, and Familia (Trans Queer Liberation Movement).
One of the most selfless acts you could do is to become a sponsor for a trans asylum seeker. When asylum seekers cross the border, they often come with family. This is often not the case for LGBTQ immigrants. Queer and transgender folks often flee their country because their family has rejected them or because they are rejected by society in a way their family is not. LGBTQ asylum seekers may lack community, and you could provide a transgender asylum seeker with a sense of support and family while they seek political asylum.
Santa Fe Dreamers prioritizes sponsors in the Bay Area, Sacramento, LA, Seattle, Portland, Denver, Chicago, Minneapolis/St. Paul, Boston, and New York, yet encourages people from all over the US to reach out. They currently have at least 30 women awaiting placement. Showing Up For Social Justice and the Asylum-Seekers Sponsorship Project are other organizations that facilitate sponsorship of migrant LGBTQ individuals and families.
Luz, a transgender immigrant, reminds us that everyone deserves to live a life free from fear and violence. "I had already been imprisoned [in Honduras] and didn't want to experience another situation like what I had been through."
If you would like more information about becoming a sponsor, contact a trained volunteer to have an obligation-free conversation.
This article was originally published on