Netflix's 'I Am Not Okay With This' Is My New Favorite Show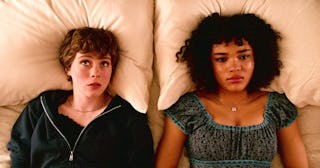 Courtesy of Netflix
When I was an awkward young teenager, I kept a secret locked up inside of me. It felt safe to go undetected by others, something that helped me get through some of the most vulnerable years of my childhood. But I yearned for the day when I could share who I was with the world. I tried like hell to pretend I was only into boys, and I was pretty damn successful at it. But 15-year-old Lindsay was also desperately jonesing to make out with girls.
I finally came out as bisexual at the end of last year. And ever since, for the first time in my life, I've felt free to be completely myself. There's a power in owning who you authentically are and taking off the mask you've worn to protect yourself from others. Some may even consider it a superpower.
While I may not be able to move shit with my mind and am currently living as a 36-year-old mother of two, I feel so damn seen after being introduced to 17-year-old Sydney Novak in Netflix's "I Am Not Okay with This."
Syd (played by Sophia Lillis) is an angsty teen who is trying to pick up the pieces after her father's untimely death. She's got a little brother she loves to bits and a strained relationship with her overwhelmed mom. Her quirky neighbor, Stanley, has a thing for her, her mother is constantly on her ass about dropping the teenage attitude, and she's struggling hard to manage her mounting anger over a dad she'll never get to see again.
As if all of this wasn't complicated enough, Sydney also has the uncanny ability to knock shit over, give boys nosebleeds, and destroy school property without touching a damn thing. As we watch her discover the depths of some uncontrollable superpowers she doesn't understand, or even necessarily want to possess, we also witness a young person who, in the midst of it all, is discovering herself.
Because Syd also has an awesome best friend named Dina, and she is secretly (or not so secretly) in love with her.
It's downright amazing when a television character comes along who not only speaks to who you've become, but also honors the struggles of who you were before you knew how to affirm it. In Syd, I see a younger version of myself who felt so damn angry and unlovable and too much for this world. My heart aches and melts for her as she grapples with fierce emotions that quite literally set her world on fire while simultaneously dealing with an attraction to girls that she yearns to feel out loud.
At the heart of this series is a teen who tries – and fails – to mask the deepest, most genuine parts of herself. And in the undoing, she realizes that her inner and outer worlds will never be the same. At a time in our country when women are still being condemned for their assertiveness, passion, and emotional breadth, we need characters like Sydney Novak to root for and cheer on. And to be completely honest, I sure could have used the positive visual representation of an LGBTQ+ character like Syd in my life when I was a struggling teenager.
If my four-year-old daughter were a teenager right now, I guarantee we'd be hooked on this series together. No matter how you identify, "I Am Not Okay with This" is a show you'll be totally okay sticking on your "must watch" list.
This article was originally published on