Clinton And Trump Have Radically Different Positions On LGBTQ Rights
by Elizabeth Broadbent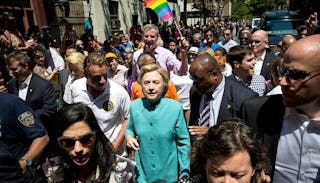 Eric Thayer / Getty Images
LBGTQ rights is one area in which the presidential candidates differ radically. While Hillary Clinton promotes expansion of rights and protections for the LBGTQ community, Donald Trump proposes rollbacks of fundamental rights and anti-discrimination clauses and has compared gay marriage to preferring a different type of golf putter.
In a historical op-ed for the Philadelphia Gay News, Hillary Clinton recently addressed the LGBT community. She noted the historic rights they have recently achieved: "Marriage equality is the law of the land. This year, the last state law prohibiting same-sex couples from adopting was finally struck down. And President Obama signed an executive order protecting federal workers from discrimination on the basis of sexual orientation or gender identity. We should celebrate that progress." But she noted that there were many places in which we needed to move forward. A year before her op-ed, she noted that, "There are still too many places where lesbian, gay, bisexual, and transgender Americans are targeted for harassment and violence. There are still too many young people out there feeling hopeless and alone."
First, she would fight to pass the Equality Act, which according to the Human Rights Campaign, "would amend existing civil rights law" providing consistent protections for LGBTQ Americans "across key areas of life, including employment, housing, credit, education, public spaces and services, federally funded programs, and jury service. […] Additionally, the Equality Act would update the public spaces and services covered in current law to include retail stores, services such as banks and legal services, and transportation services."
Clinton will also help LGBTQ youth by tackling bullying, ending what is referred to as "conversion therapy" for minors, and adequately funding welcoming, safe shelters. She will end adoption discrimination for good and "protect LGBT elders against discrimination." She will also "upgrade service records of LGBT veterans dismissed due to their sexual orientation." According to Ballotpedia, "As president, she will work to protect transgender individuals from violence by directing the government to collect better data regarding crime victims and seeking to improve reporting of hate crimes; streamline identity documents to remove barriers to transgender Americans changing their gender marker on identification documents; and invest in law enforcement training focused on fair and impartial policing, including in interactions with LGBT individuals. Hillary will invest in law enforcement training that focuses on issues such as implicit bias, use of force, and de-escalation, as well as fair and impartial policing including in their interactions with the LGBT community, in particular transgender individuals. It will also focus on educating police officers on correctly identifying bias-motivated crimes."
She will also fight hard against the scourge of AIDS, working toward an "AIDS-free generation."
When it comes to the Obama Administration directing public schools to allow students to use bathrooms that match their gender identity, Hillary Clinton's spokesperson Xochitl Hinojosa told The Washington Post, "Hillary Clinton applauds the Obama administration for taking actions this week to stand up for the rights of LGBT people — and particularly for the rights of transgender people — across the country."
In her op-ed, Clinton claims that Trump will appoint judges who will "overturn marriage equality and rescind many of President Obama's executive orders" protecting LBGT persons. Even worse, Donald Trump's running mate Mike Pence "supported a bill that legalized discrimination against LGBT people. As a member of Congress, he voted against expanding the definition of hate crimes to include sexual orientation and gender identity. He opposed the repeal of 'Don't Ask, Don't Tell,' saying doing so would be 'social experimentation.' And he's said that homosexuality would bring about 'societal collapse.'"
On October 7, Mike Pence confirmed this when he sat down with James Dobson of Focus on the Family. He said Donald Trump would "revoke LGBTQ protections and appoint far-right judges like the late Antonin Scalia." He also made clear that he and Trump oppose Obama's executive mandate to allow students to use bathrooms that correspond to their gender identity.
In speaking with Dobson, Pence also made clear that Trump, like him, supported Religious Freedom Restoration Act laws, which allow "for discrimination against LGBTQ people as long as the person doing the discriminating claimed a deeply held religious belief motivated their actions." Pence has also accused the Democrats of pursuing a gay agenda here and abroad.
Trump has also made clear he will sign FADA, or the First Amendment Defense Act, the key clause of which reads: "Notwithstanding any other provision of law, the Federal Government shall not take any discriminatory action against a person, wholly or partially on the basis that such person believes or acts in accordance with a religious belief or moral conviction that marriage is or should be recognized as the union of one man and one woman, or that sexual relations are properly reserved to such a marriage." This means "leaving those who might see merit in same-sex marriage or cohabitation or non-marital sex perfectly exposed to being fired, audited or cut off from public funds in retaliatory ways." FADA is unanimously decried by the LBGTQ community as a rollback of rights, and a way to create a whole new legal basis for discrimination against the LBGTQ community.
And while Trump has taken no stance on LBGTQ bullying or conversion therapy, Pence has previously advocated for conversion therapy using taxpayer funds.
[free_ebook]