Protection Of LGBTQIA+ Students Should Never Be Controversial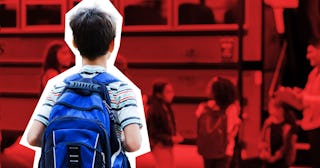 Scary Mommy and SDI Productions/Getty
Many students are back in the classroom for the first time in over a year. Kids are flexible and often resilient, but "normalcy" comes in short bursts as we continue to live in the continuous state of COVID-19 uncertainty. Going back to school should be a normal, yearly rite of passage event, but the fight over masking and the need to quarantine or shut down schools just as classrooms reopen means our kids remain on edge even while trying to stay optimistic about the school year.
LGBTQIA+ students experience these frustrations as well as added layers of anxiety as they return to school. COVID-19 has significantly and negatively impacted queer students, and schools need to step up to be sure classrooms are safe and school policies are inclusive.
LGBTQIA+ students are often more nervous when in school and suffer disproportionately higher rates of bullying, depression, and self-harm than their cishet peers. The Trevor Project's National 2021 Survey on LGBTQ Youth Mental Health recently reported that 80% of queer youth said COVID-19 made their living situation harder. Half of queer youth said COVID-19 limited their ability to express their sexuality; 60% of nonbinary and transgender youth said their ability to be their true selves was hurt too. Being isolated at home was toxic for many queer youth.
For others, it was a time to reflect on their sexuality and gender identity; time away from school and peers gave many people the chance to finally come out. About a third of parents accept their queer kids immediately and unconditionally, but most parents either struggle to accept or reject their LGBTQIA+ children. If kids aren't safe at home, they need to find solace and protection at school.
It shouldn't be seen as controversial, cumbersome, or even unnecessary to proactively protect LGBTQIA+ students. Schools need to make it their duty to uphold the rights of queer students, particularly transgender, nonbinary, and gender nonconforming youth. States and school districts have taken bigotry's side and are policing where transgender students are allowed to use the bathroom and are denying transgender athletes—mostly transgender girls—the right to participate in their sport. Anti-transgender bills have made it harder for transgender students to return to the classrooms that were already tough to sit in.
Studies show that 70% of LGBTQ students are verbally harassed based on their sexual orientation while only 26% of those surveyed in the Human Rights Campaign LGBTQ Youth Survey say they always feel safe in their classrooms; only 5% of those students surveyed say all of their teachers and school staff are supportive of queer people. This is bullshit. It's also preventable.
Inclusivity trainings for all staff, clear anti-discrimination policies, a strong stance on bullying based on gender identity, gender expression, and sexuality, diverse books, inclusive health and sex ed, and gender neutral language and dress codes. When LGBTQIA+ students are openly and unequivocally supported by schools, rates of bullying against these students decrease. And it only takes one supportive adult to significantly reduce the risk of harm to a queer youth; a teacher can be that person.
No family or student should be subjected to heteronormative defaults. No student should be punished, left behind, bullied, or made to feel excluded because they don't follow society's assumption that everyone is cisgender and straight. No kid should feel boxed into gender stereotypes or outdated ways of thinking.
If you can't do this, then you shouldn't be an educator.
Parents and queer students have the right to demand inclusive policies. The U.S. Department of Justice, U.S. Department of Education, and U.S. Department of Health and Human Services recently issued a back-to-school statement to transgender students. The video addresses the stress transgender students feel right now and acknowledge the obstacles and reality of discrimination they face. Attorney General Kristen Clarke for the Civil Rights Division, Assistant Secretary for Civil Rights Suzanne Goldberg, and Assistant Secretary for Health Dr. Rachel Levine reassure and affirm transgender students and parents of their worth and rights. They discuss the risk of schools not doing the same. They also offer resources for LGBTQIA+ students and list places where complaints can be filed.
The continuous attacks on transgender students and athletes, the increased mental health struggles related to COVID-19 and being in homes that were not affirming, returning to the classroom after coming out are weighing heavily on LGBTQIA+ youth. If they are returning to a school that has let queer kids and the need for inclusivity to fall off the radar, then those students are not being offered equitable learning opportunities or any sense of relief. Queer kids are feeling anxious, but there are plenty of things schools can do to make the transition smoother and they need to do them immediately.
This article was originally published on