Liam Hemsworth Shares Striking Photo Of Burned-Out Home: 'This Is What's Left Of My House'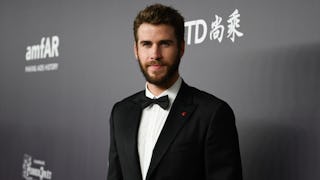 Image via Clint Spaulding/amfAR/Getty Images for amfAR
Your heart will break when you see all that remains of Liam Hemsworth and Miley Cyrus' home
After uncontrolled wildfires spread throughout southern California over the weekend, thousands of homes were destroyed. Many celebrities took to social media to share the gravity of their own situation. Some people have been cleared to return to their homes to assess the damage — and Liam Hemsworth did just that in an emotional Instagram post.
The Malibu home he shared with fiancé Miley Cyrus appears to be burned to the ground, with nothing but charred remains and ash seen in his photo.
"It's been a heartbreaking few days. This is what's left of my house. Love," he writes in the caption.
Distinguishable among the ruin are the letters "L-O-V-E" from what appears to be a decorative stone piece he and Cyrus had in their home — the only thing that seems to have survived. Honestly, it's as heartbreaking as it is striking.
"Many people in Malibu and surrounding areas in California have lost their homes also and my heart goes out to everyone who was affected by these fires," he says."I spent the day in Malibu yesterday and it was amazing to see the community pulling together to help each other out in any way they can."
Hemsworth notes that the community of Malibu is a strong one, and he has hope it will remain that way through the aftermath as everyone assesses their losses. Cyrus also opened up on Twitter about the tragedy of the wildfires.
"My animals and LOVE OF MY LIFE made it out safely and that's all that matters right now," she writes. "My house no longer stands but the memories shared with family and friends stand strong."
Honestly, it doesn't matter who you are or how much money you have — and of course, people have been complaining about "rich celebrities" and how we shouldn't feel sorry for them — even status can't save you in the event of a natural disaster. And to lose your home, and everything you hold dear in it, even if they're just "things" in the end, is one of the most heart-wrenching, keenly felt losses imaginable.
"Thankful for the all the great local guys that helped keep smaller fires out around my property," Hemsworth concludes. "I love u guys. I love you Malibu. Thank you to all the hero firefighters around California. It's going to be a journey to rebuild. Stay strong all."
For those interested in helping or donating, Hemsworth suggests visiting @malibufoundation and @happyhippiefdn.