Liam Hemsworth Speaks Out On His Split From Miley In Touching Post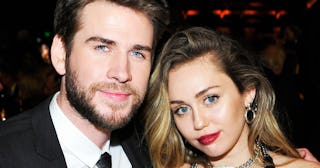 John Sciulli/Getty
Liam Hemsworth has finally spoken, and he's staying far away from the drama surrounding his split
Liam Hemsworth and Miley Cyrus have split. The news came as a shock to many fans who have watched their relationship ebb and flow during its nearly 10-year history, and especially after their wedding in December, just eight months ago. But via statements from their reps, both Hemsworth and Cyrus confirmed their breakup.
And both of them stayed pretty quiet about it, until now. Hemsworth just broke his silence in the aftermath of the split with a truly touching post on Instagram, proving that, despite all the rumors swirling about this high-profile breakup, he's not engaging in any drama and wishes nothing but the best for his wife.
Alongside a photo of dusk on what looks like an Australian beach (he's been spotted surfing a lot lately with his brother Chris in their home country), Hemsworth wrote, "Just a quick note to say that Miley and I have recently separated and I wish her nothing but health and happiness going forward."
He also specifically noted that this and the statement his rep made are the only public comments he plans to make, and that anything a journalist attributes to him about the breakup is likely false.
Hemsworth's comment comes as rumors are flying fast and furious in the wake of the split. Cyrus has been posting tons of photos from a girls' trip in Italy, where she seems to be doing some post-breakup recovery with her sister, Brandi Cyrus, and friend Kaitlynn Carter, who recently split from her husband of one year, Brody Jenner.
https://www.instagram.com/p/B083JJhA_LU/?utm_source=ig_embed
Those rumors took on a life of their own after paparazzi photos appeared to show Cyrus and Carter cuddling and kissing on a boat. Cyrus has been open about being pansexual and spoken candidly about her struggles with being in a heterosexual relationship and not seeing herself as a typical wife.
"What I preach is: People fall in love with people, not gender, not looks, not whatever. What I'm in love with exists on almost a spiritual level. It has nothing to do with sexuality," she told Vanity Fair. "Relationships and partnerships in a new generation — I don't think they have so much to do with sexuality or gender. Sex is actually a small part, and gender is a very small, almost irrelevant part of relationships."
Here's hoping both Cyrus and Hemsworth can find the happiness they deserve.