Liberty University Welcomes Students Back To Campus Despite Coronavirus Spread
by Madison Vanderberg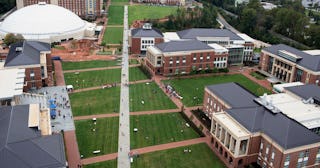 Andrew Lichtenstein/Getty
Liberty University in Virginia reopens despite coronavirus spread
Despite the global and domestic spread of COVID-19, the widespread economic shutdown, and the shelter-in-place directives all across the country, one private Christian university in Lynchburg, Virginia decided to reopen this week. Liberty University welcomed students back this week despite the fact that the state of Virginia has closed all nonessential businesses during the coronavirus outbreak and the state closed all K-12 schools for the rest of the academic year.
Liberty University is a private institution and The Hill notes that its president, Jerry Falwell Jr., is a longtime supporter of President Trump. As other schools and districts across the country have canceled classes through the rest of the school year, including all of Virginia's K-12 schools, Falwell said on Monday that he discussed his plans to reopen the school with the Council of Independent Colleges in Virginia.
"Our thinking was, 'Let's get them back as soon as we can — the ones who want to come back," Falwell said in a statement. "I think we have a responsibility to our students — who paid to be here, who want to be here, who love it here — to give them the ability to be with their friends, to continue their studies, enjoy the room and board they've already paid for and to not interrupt their college life."
Seemingly more concerned with his student's "college experience" than their health, Falwell told Richmond Times-Dispatch that the students would be "protected" living in such close proximity in the dorms.
"I think we, in a way, are protecting the students by having them on campus together," he said. "Ninety-nine percent of them are not at the age to be at risk and they don't have conditions that put them at risk."
Liberty spokesman told AP News that 1,100 students were back on campus this week. Not surprisingly, Virginians were not happy about the news.
"We could not be more disappointed in the action that Jerry took in telling students they could come back and take their online classes on campus," Lynchburg City Manager Bonnie Svrcek said in a statement.
Professors must report back to class as well and can only be exempt with "a valid health exemption."
Virginia is one of only a handful of states yet to order stay-at-home directives, though it remains to be seen what will happen to Liberty University if/when Virginia follows suits and enforces social distancing practices likes several other states have.
This article was originally published on