12 Things That Will Make Your Life So Much Easier
by Team Scary Mommy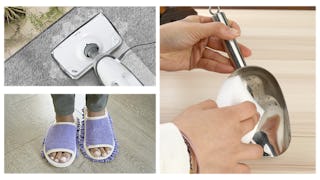 Images via Amazon / Walmart
We are all looking for some great life hacks to make it easier to get shit done so we can pay attention to the fun and meaningful areas of our life. Good news here, folks, we found 12 products that will do just that.
An easy-to-use mop that's light and can clean all your floors is essential, especially if you have kids and pets. But the fun doesn't stop there. This device can steam your kitchen faucet, oven hood, and furniture and has an attachment for clothing as well.
Get rid of your dustpan! No need to bend over and sweep up debris with this touchless vacuum. It's a bestseller for hair salons, so imagine how much hair, dust, and dirt it will eliminate in your house.
It's so nice to have a little machine that gets the job done when you have a spill (or something even grosser) on the furniture or carpet. The Little Green Machine is easy to use , easy to store, and it really works.
Pens you can throw in your purse or keep in your car. These are a lifesaver when you get a stain or small spill when you are on the go. They are also great for getting small stains out of furniture.
It's no secret dusting bites the big one, especially in high areas (ceiling fans) where cobwebs like to linger. These Swiffer extension dusters are here to save the day, and keep you from falling off a chair.
Microfiber cleaning cloths are fantastic — they are reusable, fast-drying, antibacterial, and literally clean everything. Added bonus: They are better for the environment.
If you love to make your own homemade cleaners with essential oils, vinegar, and the like, you need the proper bottles to store them. These bottles are BPA- and lead-free, and you can pop them in the dishwasher.
Hooks are great to hang pictures, but they are also a great to organize the inside of your cupboards. Stick some of these on the insides of your cupboards to hang dishcloths, slipped spoons, and measuring cups to make them more accessible. I can't get enough of these, and I think Kondo would approve.
We don't know how they do it, but magic sponge erasers can get almost anything off your walls or other hard surfaces with minimal scrubbing. They even take crayons off the wall, okay? If you are going to stock up on one cleaning products, make it these.
This puppy can get in all those hard to reach places and does the scrubbing for you — no elbow grease required. This is seriously the best thing that has happened to adults of the world since the peanut butter pump.
How can you not need these in your life? Slippers you can clean your floor with saves your back and helps you get in a good workout all while getting the debris off your floors — the kiddos will love them too.
This broom allows you to do a once-over on your floors to pick up all that pesky animal hair in between the heavier cleanings. The soft, rubber bristles make it great for getting hair off your clothing, too.
Keeping up with your home in the midst of life doesn't have to totally suck (or hurt) so think of these tools as an investment that will save you bundles of time to get out there and do more enjoyable activities. Like basically anything that isn't cleaning the house.
We may earn fees from purchases made via links on this page and affiliated sites. All opinions are our own.
This article was originally published on