Dad Calls Out 'Friends' For Not Inviting His Autistic Son To Their Kids' Birthday Parties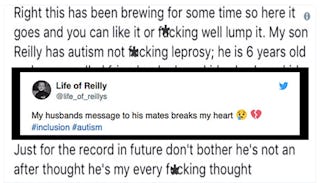 Image via Twitter/ Life of Reilly
It's hard to lean on your friends when they're the problem
Christine and Shane Stephenson have a six-year-old boy named Reilly. Reilly's got a gorgeous mane of curls that would make any Pantene model weep with envy and a puppy named Samwell Tarly, which wins for best dog name ever. Reilly also happens to be autistic and nonverbal. The Stephensons keep it real about the challenges that come with raising Reilly, in fact Christine blogs about their life. Sometimes it's tough. And it was made even tougher when their friends failed to invite Reilly to any of their own kids' birthday parties this year.
Recently Shane got fed up with holding in his frustrations at his so-called "friends" and let it all out in an epic, F-bomb filled Facebook rant.
"My son Reilly has autism not fucking leprosy," he wrote. "He is six years old and my so called friends who have kids also have kids' parties. Not ONE invite not fucking one." It's a double gut punch. Not only does it hurt like hell to see your child get excluded, but it hurts as a friend to feel like you're getting rejected as well. When you have kids around the same time as your friends, you think that if you've got to give up Saturday nights at the bar, at least you're all in this together right? But the Stephensons' friends bailed on their end of the deal, presumably just because Reilly's autistic.
Shane made it clear that he's not interested in any after the fact pity invitations. "Just for the record in the future don't bother he's not an after thought he's my every fucking thought." Amazing dad points: Infinity.
Christine tells Scary Mommy her husband posted his message online after seeing a friend's post about a child's birthday party that Reilly wasn't invited to. But truthfully, the words were a long time coming. "It hurt him, but that post was just the straw that broke the camel's back. He has felt for a long time that we are often overlooked and support in general isn't great," she says.
While they didn't find the support they'd hoped for within their own friend group, parents online definitely understand how the Stephensons feel. Christine shared her husband's Facebook post on Twitter, where fellow autistic parents said they've had to deal with the same shitty situation.
https://twitter.com/jetpack/status/927279466665140226
Christine says some of Shane's buddies have been brave enough to reach out and apologize. "A couple of friends have responded absolutely mortified that my husband felt like that," she says. "Moral to this story is just ask — there's a chance we will decline if we deem it too much for Reilly but he loves a party even if it's just for half an hour."
This person summed the issue up perfectly.
While she says the support they've received has been incredible, Christine finds it upsetting that being excluded from social events is such a common issue for families of autistic children. If you're hesitant to invite a child to a party because you're not sure how the logistics would work, better to ask and have the conversation with their parents than exclude them completely.
The world is full of all types of people. The more we can do now to help our kids be open-minded and kind to everyone, the better. "I think the parents know their child's comfort levels so just ask and let them decide," she says. "We struggle to have any type of social life to be included is priceless."