Airbnb Is Taking A Look At Their Fees After Social Media Outcry
by Kristina Johnson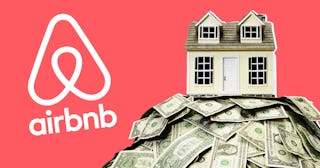 Scary Mommy, AirBNB and Steven Puetzer/Getty
Airbnb says it's looking into booking fees after a social media outcry
Like so many companies before it, Airbnb is now feeling the heat from social media. A backlash against the vacation rental company erupted after a viral tweet pointed out that a cheap getaway can easily become an expensive one once all the taxes and fees are tacked on. That user's stay actually doubled in price, and other people quickly begin chiming in with their own stories of Airbnb sticker shock.
The company responded by saying it would launch a comprehensive review of its fees, and how it can be more transparent with travelers. It also posted an explanation of how fees are calculated on its website. The cleaning fee is set by the Airbnb host—which is fine, if they're actually using that money to clean. If you've ever rolled up to your rental only to regret not packing your hazmat suit at the sight of a mystery stain, you know that unfortunately, not all of them are. And when you're paying $100 or more for cleaning, you probably expect a little more than like, running a baby wipe over every surface (which to be honest, is what like 80% of my cleaning at home entails).
Airbnb noted that almost half its listings don't charge a cleaning fee (which kind of seems slightly sketchier, to be honest?). But for those that do, the Covid-19 pandemic may have caused those cleaning fees to spike even further. Disinfecting and sanitizing became kind of a big deal, even though the latest guidance suggests it may not be as important as so many of us originally thought.
As for "occupancy taxes" (which really just sounds like something that should only be relevant if you're playing Monopoly), those are set by the local area in which you're renting, and generally, you'd be paying them whether you stayed at a hotel or an Airbnb.
The one area where the company does seem to have some wiggle room is in the vague "service fees," which is the percentage that Airbnb itself collects from the booking. "For most stays, guests pay a service fee that is under 14.2% of the booking subtotal," it noted.
Some Twitter users said the outsized fees led them to book hotels instead — and that may have been what actually prompted Airbnb to sit up and take notice. They can't charge a big service fee if people aren't booking.
Airbnb said it plans to complete the review and release new recommendations by December 15th—so a somewhat cheaper stay may be the holiday gift that travelers get this year.