All-White School Board's Book Ban Only Includes Books By Or About POC
by Erica Gerald Mason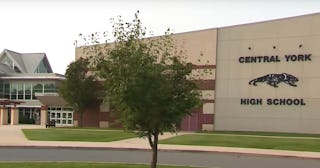 CNN/Youtube
An all-white school board voted unanimously to ban a selection of educational materials that included a children's book about Rosa Parks
In a serious WTF moment, during a virtual school board meeting, students, parents and other community members discussed the list of materials that were banned from the curriculum last year by a Pennsylvania school board. Last October, the all-white school board of York voted unanimously to ban a selection of educational materials that included a children's book about Rosa Parks, Malala Yousafzai's autobiography and…get this…a Sesame Street town hall on racism, CNN reports.
Yeah.
"I don't think a moral compass will let you ban books about equality and loving each other," Central York High School senior Christina Ellis told CNN.
School librarians have since pulled the materials from shelves.
School officials went on to say it's not a ban, per se, and the materials are merely "frozen" while the board continues to investigate the material. Yet the vetting process has taken nearly a year. At the virtual board meeting on Monday, district leaders confirmed the materials are still verboten.
"I was deeply hurt when I heard about this book ban, which hurts Black and brown authors and resources," said Ellis, a Black senior at the high school. "Why is a Sesame Street episode threatening the education of children. If anything this school board is threatening education," she said during the meeting.
Jane Johnson, the school board president, emphasizes that the fact that all Black-authored or Black-themed materials were banned is just a coincidence.
"Concerns were based on the content of the resources, not the author or topic…," Johnson said in a statement.
"I don't think that a board that lacks diversity is the appropriate authority to determine what qualifies as appropriate material to address race in this community," said Brandi Miller, a parent of a student in the York school district.
And because we lived in the most absurd timeline, some parents are supportive of the ban. One mother said,"the community is 100% against an critical race theory indoctrination agenda," during Monday's meeting. "Schools are not the place for politics or identity to be shaped."
Someone please tell her that critical race theory is not taught in the K-12 curriculum.
York parent Matt Weyant commended the school board for implementing the ban. "I don't want my daughter growing up feeling guilty because she's white," he said.
This would be an excellent time to encourage the Matt's of the world to open their mind to their children learning about the history of America in a way that's both thoughtful and closer to reality than what they were taught as children.
"I want to learn genuine history," said Olivia Pituch, student who was protesting in front of Central York High School told CNN.
"I don't want to learn a white-washed version. I want to hear all of it. I don't want everyone to be worried about how we feel because no one was worried about how BIPOC members of the community felt."