Andy Cohen Is About To Be A Dad Thanks To A 'Wonderful Surrogate'
by Christina Marfice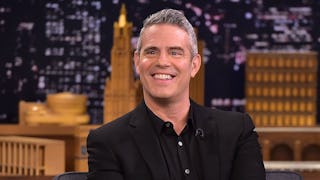 Image via Theo Wargo/Getty Images for NBC
Congratulations to Andy Cohen, who will become a first-time dad in 2019
2019 is already about to become a whole lot more fabulous. In an emotional speech delivered on his show, Watch What Happens Live on Thursday night, Andy Cohen revealed he's expecting a baby via surrogate, and that the due date is only a few weeks away.
Cohen, who is 50 and rumored to be single currently, gathered a legion of Real Housewives including Nene Leakes and Teressa Giudice to surround him as he broke the news.
https://www.instagram.com/p/BrozLRFlUcy/
"Tonight I want to share a little personal news of my own," he said. "To the viewers at home, I call you my friends at home because we are friends. You have supported me through almost 10 years of live… This has been an incredible joyous journey with you all. I am grateful to be able to live my dream every day and grateful to you for coming along for the ride."
He continued, "And throughout it, I've always tried to be as transparent as possible about my life — I overshare and expect everyone to do the same. Tonight, I want you to be the first to know that after many years of careful deliberation, a fair amount of prayers and the benefit of science — if all goes according to plan in about six weeks time I'm going to become a father."
Cohen went on to reveal that this miracle is happening thanks to a surrogate who is carrying his baby.
"Thanks to a wonderful surrogate who is carrying my future," he said. "Family means everything to me and having one of my own is something that I have wanted in my heart for my entire life. Though it's taken me longer than most to get there, I cannot wait for what I envision will be the most rewarding chapter yet."
Um, yes, something tells us this will be an amazing future chapter for Cohen, who's the hilarious and generous spirit who brought us the Real Housewives and basically every other Bravo series we secretly watch in our down time. The internet (including several Housewives, who reacted adorably on his show), at least, is fully here for this news.
Our sincerest congratulations to Andy as he takes on his most exciting journey yet.