Anti-Vaxxers Shout 'Stop Segregation' Outside Fully Vaxxed Bruce Springsteen Show
by Madison Vanderberg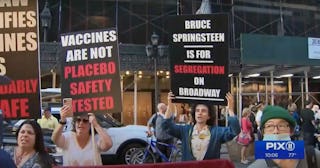 Pix11/YouTube
After protesting the vaccinated Foo Fighters concert, the anti-vaxxers descended on Bruce Springsteen's Broadway show
After 16 months of shuttered box offices and dark stages, Broadway finally reopened with a Bruce Springsteen concert on June 26, 2021. What should have been a momentous occasion with the iconic singer-songwriter was overshadowed by a bunch of anti-vaxxers who took offense to the fact that the theater required proof of vaccination to attend the show.
Shouting "Stop Segregation" outside the Broadway theater as if they are actually being oppressed, the anti-vaxxers caused quite a scene.
PIX11 News estimates that 100 people crowded the Broadway theater, holding signs, not wearing masks, and shouting about supposed fascism and segregation due to the venue's vaccine mandate.
"We learned in the '60s that segregating people isn't right," a woman holding a "Bruce Springsteen is for Segregation on Broadway" sign told the Ashbury Park Press. Another man with a bullhorn shouted, "Welcome to Nazi Germany."
There was even a woman walking around with "free jewelry" so you could check to see if you were "magnetic" after getting the vaccine, which is scientifically nonsense, because yes, some anti-vaxxers still seem to think that vaccines **checks notes** makes you magnetic.
All guests entering the venue must be fully vaccinated. The only exception to the vaccine mandate for the Springsteen show was for "children under the age of 16, or those who need reasonable accommodations due to a disability or sincerely held religious belief." If you fall under either accommodation, you must test negative in advance. Unclear how one proves they have a "sincerely held religious belief," but methinks that "the vaccines make you magnetic" isn't a valid belief.
Vanity Fair reports that Springsteen was unfazed as he performed for the sold-out crowd of almost 2000 guests. Though he did briefly mentioned the protestors, saying, "I understand those folks out in the street. It's scary, scary times filled with confusion." That's a whole lot more empathy than I'd extend to them, but good for you Bruce.
Just last week, The Foo Fighters kicked off their first full-capacity concert since the start of COVID-19, and they were also met with anti-vaxxers screaming "discrimination" because the band had the gall to only admit vaccinated guests.
Based on the signage that keeps popping up at these anti-vaccine demonstrations, it appears to be an organized group that seems to stalk concert venues that require proof you got your COVID shot.
So are anti-vaxxers going to keep this up indefinitely, because it seems extremely unlikely that vaccine requirements for entry to concerts are going away anytime soon?
Also, for the record, you are not being oppressed because concert venues won't let you see a show without a vaccine. Full stop.