I'm Not Religious, But A Faith-Based App Is Saving My Marriage
by A. Rochaun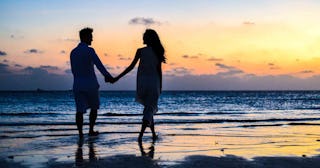 Asad Photo Maldives/Pexels
Like many couples who marry young, there was no shortage of obstacles for my husband and me at the beginning of our marriage. Having just graduated from college, I was in a period of personal and professional transitions. I'd never imagined that making my adjustments, in addition to witnessing my husband's own transitions, would be so challenging.
It felt like the entire world was against us. Finding meaningful work was impossible, and living with relatives was not conducive to tending to our relationship. Needless to say, we were both under a shit ton of pressure and would take it out on each other at a moment's notice.
Our love was suddenly filled with life obstacles and an assortment of curve balls. And both of us made a few choices that made this harder, not easier.
In hopes of getting better, we started seeing couples counselors. Each person came with their own perspectives, quirks, and supplemental materials. They also provided faith-based feedback, which didn't work well with my evolving agnosticism.
The advice we were getting always seemed to be: "Don't get a divorce; love each other as Christ loved the church." But we were looking for something more along the lines of an objective yet critical assessment of whether we seemed functional enough to make it.
In all honesty, I was in a period of rebellion. It was a time that no Bible-based content would have worked for me. So when our relationship with our third counselor dissolved for whatever reason (likely terrified of our baggage), we vowed to refrain from seeing any more counselors who were faith-based.
Unfortunately, we had just as much trouble finding a secular counselor that worked for us. It took us nearly three years to finally find someone we both loved.
Then life happened. We were busy, my husband takes several work trips a year, and before we knew it we had two children to tend to. Counseling fell by the wayside.
In our time with the therapist, we made a lot of progress. But I needed a supplement we could access when life got too too busy, so we decided to try a few "relationship apps."
The first three options we tried were either duds or required too much participation from my husband. He often has limited access to his phone and internet so I needed to be prepared to do this independently.
I was absolutely shocked at what app turned out to be "it" for me.
It sounds cheesy, but "The Love Nudge" did it for me, and it's pretty damn helpful. This Five Love Languages official app is a faith-based relationship resource, albeit discretely faith-based. While I was apprehensive to use faith-based relationship advice, the way I saw it, I had two options. One, I could ditch an app that had many of the features and functions I was looking for because it was tangentially faith-based. Or two, I could get try to get over the decades of religious trauma that pushed me away from the church and use it for what it is.
I picked the latter option.
The stars must have aligned because I only had to pester my husband a few times before he downloaded it. And I was really blown away when I realized that, despite its simple interface, it allowed us to update each other on what we felt and communicate the best ways to express love in a way that we would actually connect with — THROUGH EXAMPLES.
My hubs' top two love languages are "Acts of Service" and "Words of Affirmation" and mine are "Words of Affirmation" and "Quality Time." So we have a lot in common. But it's also pretty easy for us to miss each other, and when that happens, we have to work even harder to help meet each other's emotional needs.
The app provides color-coded breakdowns for each of the love languages, along with a useful section that keeps your partner's love language on display.
It's taught me that I can make him feel better with small gestures like taking out the trash or cleaning the dishes, and it's showed him that when telling me he appreciates what I'm doing for the family, a little goes a long way.
It's only been three weeks, and I've already seen a huge benefit in being able to update a "how am I feeling" meter through the app and suggest actions that can help it reach optimal levels.
Just when I thought the app couldn't get any better, we found out a few days ago that we can send action requests as well as personalized messages. This allows me to set reminders for what I want to do for him so I don't forget when life gets too busy.
Lately, we've been so much more mindful of each other's needs and even started to make little jokes about interacting in a personalized way. Plus, the reminders have been incredibly helpful.
I know these apps won't give us all the answers. And everything I read isn't applicable to our circumstances. But I love that I have finally got into a place where I am mature enough to realize some information is useful regardless of who says it.
Over the last few weeks, I've been learning to love my husband in a way that connects me with him, and it's pretty powerful. It just happened to come from a faith-based app.
There are so many things to learn in the world. And we'd all be surprised the kinds of things we could get from revisiting some of our old beliefs.
This article was originally published on