Artist Perfectly Captures The Pain Of Grief With Illustrations
by Jerriann Sullivan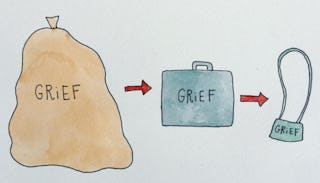 Image via Instagram.
Mari Andrew illustrates comics for more than 300k followers
Mourning the loss of a loved one is a painful part of life we're all forced to endure. It's easy to feel abandoned and lost while working our way through the stages of grief. That's why one artist started creating art about it – to help others feel less alone.
"My dad died two years ago today," writer and illustrator Mari Andrew wrote on Instagram. "It's different for everyone, but my personal experience is that grief doesn't ever go away, but it does change shape and it becomes something you can hold rather than something that overwhelms you—a part of you, rather than a burden."
Andrew used her personal experiences with loss to create illustrations about the process of grief. She has more than 350,000 followers on Instagram, where she posts an original comic daily. She perfectly captured the isolating feeling grief can have on those who have experienced it.
Like how when you lose someone and you can't find the right words to describe the heartbreaking situation i.e. feeling crazy. Eventually you do feel less crazy, though.
After her dad passed away two years ago, and the artist focused some of her daily drawings on the grief she was feeling because of it. She wanted her artwork to help others feel less alone when riding the emotional roller coaster that occurs because of a devastating loss.
RELATED: Learn The Definition Of Process Art, Plus Ways To Encourage It At Home
The artist also highlighted the painful truth that loss and grief are both part of growing as a human.
She also shared some of her favorite ways to practice self-care.
"I value optimism, honesty, and vulnerability," the artist wrote. "I do not value 'having chill.'"
This article was originally published on