obé Fitness Launches All-New Audio Workouts To Get You Moving Anywhere
A new way to move for the time-crunched mama.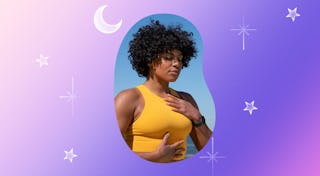 obe fitness
We may receive a portion of sales if you purchase a product through a link in this article.
It's no secret that when you have kids, it can be hard to fit in any you-time — let alone time for a full-blown workout. But obé Fitness app — a fitness app my fellow shopping editor has raved about multiple times on fellow BDG publications —  is now adding a whole new way to move with the launch of its audio workouts. Whether you have 10 minutes or 60 — obé's audio workout collection lets you move pretty much anywhere, whenever it's convenient. Because, real talk: Sometimes 10 minutes on the way to school pickup is all a mama can squeeze in for the day. The new audio workout collection offers easy-to-follow listening programs ranging from fun tempo walks to guided mediations to HIIT runs, and that's on top of more than 10,000 exercise classes already offered on the app.
How Does obé Fitness Audio Work?
Whether you're stepping outside for fresh air or gearing up for a workout inside, obé Fitness makes it easy to get moving with its range of audio programs. They're served up in easy-to-manage, bite-size chunks (think: '10-Minute Core Strength' and '5-minute Self-Care Meditation'). While some of the audio workouts offer straightforward guidance, others are playful, offering a reality TV recap or a conversation on '90s pop culture, so it feels like you're working out with a friend. The popular fitness app offers audio programs in these four areas: walking, running, strength training, and meditation. Here's what you need to know about them:
Walks: Let obé guide you through the kind of walk that helps you reach your goals. Choose a tempo walk program to build endurance, an interval walk for a sweat sesh that improves your speed and cardio endurance, or a hill walk for a treadmill-guided workout with strengthening inclines and resistance.
Runs: If you're having trouble getting started with running — or sticking to a consistent routine — obé's audio programs take all the guesswork out of it. Similar to the walking programs, the audio workouts for runs offer tempo runs to help build endurance at a steady pace, interval runs to increase strength and efficiency, and hill runs for workouts on an incline that build strong legs.
Strength training: Like a personal trainer right in your headphones, the strength training audio programs offer a hearty workout you can focus on without needing visual cues.
"It's very clean, classical functional strength training — expect moves like squats, push-ups, rows, and lunges — with really detailed verbal cues so you can follow along safely and effectively," explains instructor Melody D. "And if you're new to strength training, don't be afraid to give these a try. We repeat the cues a few times so you know exactly what you're doing."
Meditation: It's never too late to hit the reset button on your day. Take a deep breath or start your morning with the right tone by simply tuning into a guided meditation program. Just hit play, close your eyes, and let your instructor lead you.
How To Sign Up For obé Fitness
This workout platform offers monthly or annual memberships that are much more reasonable than your local gym, and you can try it out with a seven-day free trial. You'll get access to all the new audio content, as well as thousands of classes in over 20 different workout styles, including pilates, dance, strength, yoga, HIIT, and sculpt. Tune into classes whenever your schedule allows or sign up for live programs to work out in real-time with an instructor. Anything that makes working out easier, right?
This article was originally published on